Bishops of the Permanent Synod discussed the main topic of the Synod and visited Archbishop of Chicago Archdiocese
Sunday, 29 May 2016, 11:36
May 28, the Permanent Synod of Bishops of the UGCC, what is being held in Chicago, considered a state of preparation for the next Synod of Bishops of the UGCC that is going to be held in September 4-11, in Lviv. In particular, the synodal priests discussed a methodology and the very essence of the main topic of the present year – diaconia. This theme is one of the constituent of "The Vibrant Parish" program what is especially actual, regarding the latest events in Ukraine.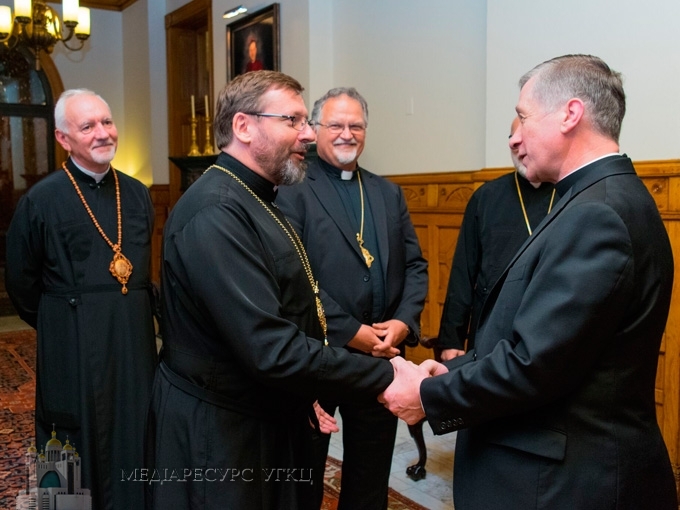 "Indeed, diaconia that is a Christian ministry to the poor, - is one of the most convincible evidences of faith. Every parish is called to show the world a mother's face of Church which shares all hopes and insecurities with its children, caring especially for the weakest ones. The next Synod has to think over the ways of awakening consciousness among a higher number of children of a Church; diaconia is not only a task of the Church charitable organizations but is a gospel's postulate of every disciple of Christ as well", mentioned in his comment bishop Bohdan (Dzyurakh), the secretary of the Synod of Bishops of the UGCC.
The same day in the evening the Head of the UGCC and the participants of the Permanent Synod of Bishops paid a courtesy visit to Archbishop Blasé Cupich, ordinary of Archdiocese of Chicago, Roman-Catholic Church in USA. On the meeting were present Archbishop Stefan (Soroka), Metropolitan of Philadelphia and bishop Bohdan (Danylo), bishop of Parma.
Since bishop Cupich is a chair of the USCCB Subcommittee for the Church in Central and Eastern Europe, guests thanked heartily American episcopate and personally bishop Cupich for supporting the UGCC and active solidarity with Ukrainian people in modern historical events.
Both sides discussed problems of pastoral care in the UGCC in Ukraine and on settlements, in particular challenges connected with military aggression of Russia against Ukraine. Bishop Cupich assured His Beatitude Sviatoslav and present bishops in a further support from American episcopate of the Ukrainian Greek catholic Church as well as in solidarity with Ukrainian people. He also wished the Permanent Synod a successful work in Chicago.
The Secretariat of the UGCC Synod of Bishops
PUBLICATIONS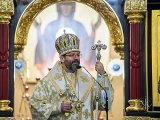 Head of the Ukrainian Greek Catholic Church brings multifaceted experience to project of evangelization.
MEDIA