Bishops of UGCC Synod participated in the planting of trees on the Heavenly Hundred Memorial Square in Lviv
Saturday, 13 September 2014, 11:44
All members of UGCC Synod of Bishops came to Lviv Holy Spirit Spiritual Seminary (LHSSS) in order to honor the love for the Motherland which the Heavenly Hundred professed. Today we are marking a place, which through the deeds of the Heavenly Hundred, will teach others to be real patriots. So stated UGCC Head and Father, His Beatitude Sviatoslav on September 11, 2014 during the planting of trees in the Heavenly Hundred Memorial Square on the territory of LHSSS.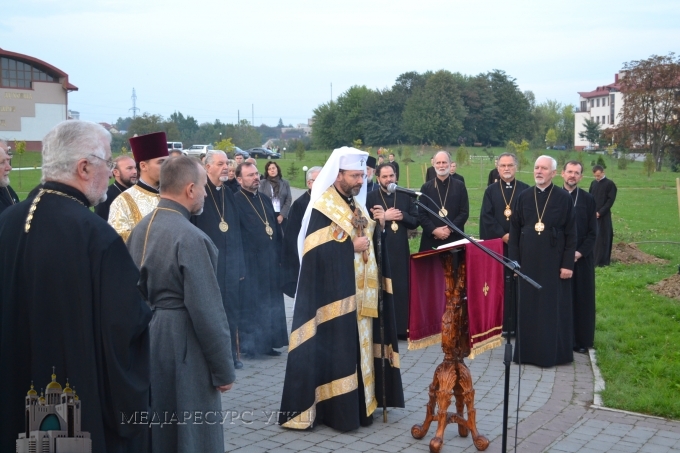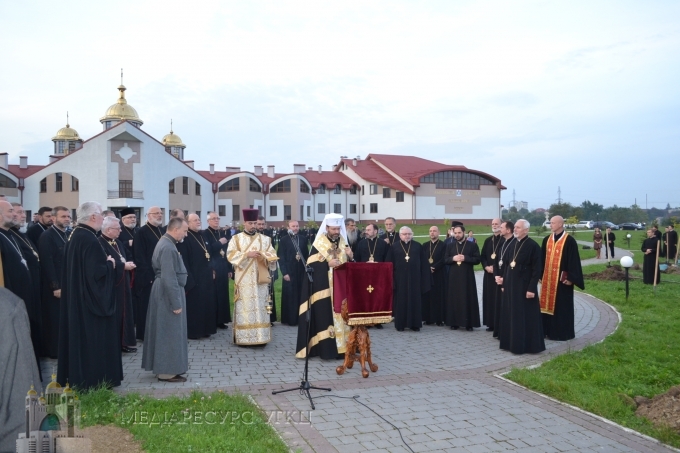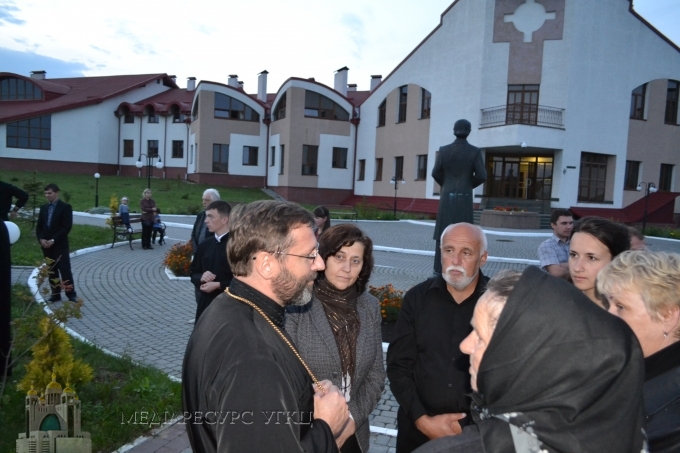 We note that at the beginnig of the planting activities, the Bishops of the Synod prayed a Panakhyda [Memorial Service] for the heroes of the Heavenly Hundred and the soldiers who died in the ATO areas. Then the bishops planted 30 Nedzvensky Apple Trees that are also known as Paradise Apple Trees.
Lviv Mayor Andriy Sadovyi participated in the effort. It is noteworthy that the planting of the Heavenly Hundred Memorial Square is a joint effort of UGCC and Lviv City Council (Green Lviv Ecology Management).
"The seminary is a place where young men learn how to love God, their neighbor, and their Church, to love their Motherland and that native soil on which they walk, which gave birth to them, and on which they live. Therefore, we wanted here -- where how to love is learned -- to plant a living tree alley in memory and respect of those who do not die," he explained.
In conclusion, UGCC Prelate prayed that God accept this gift of love which the Ukrainian people are offering as "a prayer for our Motherland." "May Almighty God bless our land and hear our prayers for peace. May he embrace those who have died and by their example, may we learn how to live. Because those who do not love, perish... And you, brethern seminarians, when you look at how these trees, which we planted here, grow – pray for the deacesed, for our Church, for Ukraine and our people. And learn how to love!" appealed His Beatitude Sviatoslav.
At the very end, the bishops of the Synod talked with the relatives of the perished. Then they sang the hymn "God Great and Almighty"
UGCC Department of Information
MEDIA