Christians of Eastern Rite Start Holy Week
Monday, 25 April 2016, 12:01
On Monday, April 25, Christians of the Eastern tradition started the Holy Week remembering the last days of the earthly life, sufferings and death of Jesus Christ on the Cross.
During the Holy Week, the believers observe the strictest fast and spend even more time attending church and praying than during Lent. This is the time to prepare for the main church feast, the Resurrection of Christ (Easter).
The Great Thursday, Friday and Saturday are considered especially important. On each of these days, in churches, passages from the Gospel about the suffering of Christ are read and special rituals and prayers are performed.
On Great Thursday, the believers remember the instituting at the Last Super of the sacrament of the Eucharist (from the Greek "gratitude").
Great Friday is the most sorrowful day of the ecclesial year, as it was on Friday when Jesus was crucified and died on the Cross to redeem the human sins.
On the Great Saturday, according to the teaching of the church, the body of Christ "was in the tomb." After the morning service, the believers get their Easter bread, eggs and other food blessed. In the evening, they gather in churches for a celebratory service to celebrate the Resurrection of Christ.
Source:RISU
PUBLICATIONS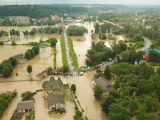 Your Graces and Excellencies, Very Reverend and Reverend Fathers, Venerable Brothers and Sisters in monastic and religious...
MEDIA