"Earthly kingdoms are born and fall apart, empires fight and die, but the kingdom of God – is eternal" - the Head of the UGCC in Makariv
Tuesday, 27 January 2015, 12:19
In the past ten days in Ukraine were killed about 300 people. Our people today feel themselves in the shadow of the death. We are attacked by a great empire, which tends to make us their slaves. And the worst thing is that we are starting to lose hope. For those who rely only on their own strength, see that they are short of it every day more and more. Among such circumstances, the Lord sends us a ray of hope: the freedom of each of us depends not on what we have, but on God.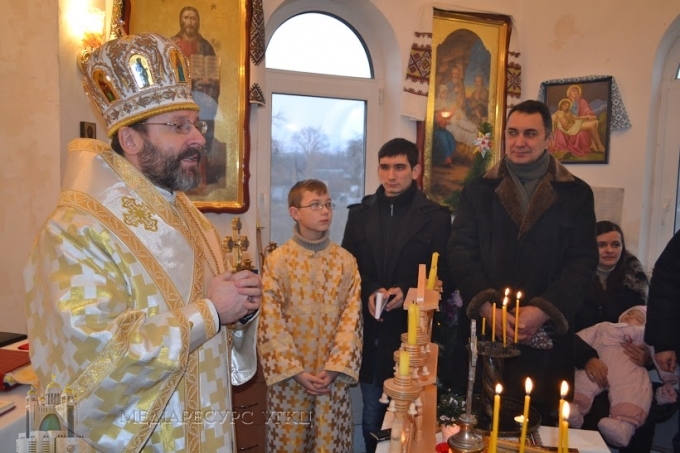 That was said by the Father of the UGCC His Beatitude Sviatoslav during a sermon of the Pontifical Divine Liturgy on 25 January, 2015 in the parish of St. Prophet Illya in Makariv in Kyivshchyna.
The Primate of the Church said that in the hands of God there is not only the fate of the Ukrainian people but the fate of the whole world. In His view, the most evil of a man –to live without God, "If Ukraine becomes a pagan Galilee; it will lose its future. Be sure, the kingdoms are born and fall apart, empires fight and die, but the kingdom of God – is eternal".
Besides, His Beatitude Sviatoslav noted, that He wanted to visit this small parish, to see how its parishioners celebrate ordinary Sunday. "In Kyiv archdiocese there are many similar communities like yours that are in a state of their development. So I came to understand how to help you, to your community in the region, to make it successfully developed", - He added.
UGCC Department of Information
PUBLICATIONS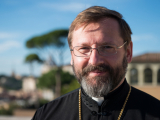 Glory to Jesus Christ! Dear Brothers and Sisters in Christ!
MEDIA