"Every Christian should become a participator of the sacrament of the Epiphany " - Bishop Dionisiy ( Liakhovych ) to Ukrainian migrants in Italy
Friday, 24 January 2014, 11:12
On the occasion of the feast of the Epiphany , Bishop Dionisiy ( Liakhovych ), Apostolic Visitor for the Ukrainian Greek Catholic in Italy and Spain led the Pontifical Liturgy in the Cathedral of St. Sophia in Rome .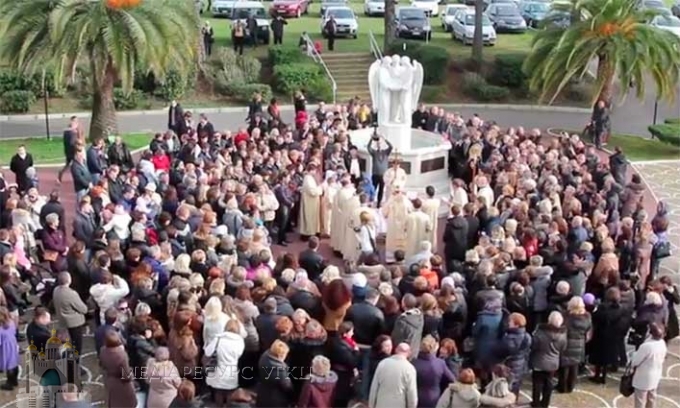 At the end water consecrating in the fountain in front of the cathedral was done. 
Addressing the audience in worship, Bishop Dionisiy said that " there are several protagonists of today's celebration: Ivan the Baptist , Jesus Christ, Holy Trinity , which is revealed to us today, and  every Christian through the Holy Sacrament of Baptism, because  God  said his words to everybody : "You are my beloved Son , whom I loved . '"
According to the Ukrainian priests in Rome , this year attendance Ukrainian migrants in Christmas church services were especially numerous . We should add that the UGCC provides its pastoral work in Rome in Ukrainian parishes of Saints Sergiy and Bacchus, in the cathedral of St. Sophia and  church of monks of the Basilian Order.
On the eve of Epiphany , on Christmas Eve, Ukrainian Society "Saint Sophia" organized a joint dinner for students from Ukraine and seminarians of Ukrainian Papal College of St. Mary . As the president of the Society Fr.Marko Semegen said " with this common meal , we want to thank you for the service that you performed for our church over the past year by participating in the various activities that the UGCC organized in Italy ."
Reported by D-n  Andriy Soletskyy
PUBLICATIONS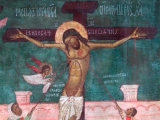 "Open to me the doors of repentance, O Giver of Life. As we worship in Your temple this morning, teach us how to purify the temple of our...
MEDIA