"Every day the Lord reveals to us new needs, related to the presence of our faithful in the world," UGCC Head
Sunday, 28 October 2012, 15:18
The goal of the new evangelization is to give the contemporary person the possibility of experiencing a personal meeting with the living Christ, who is present in His church. Evangelization is new in its form, methods as well as passion which the Universal Catholic Church is undergoing today. His Beatitude Sviatoslav (Shevchuk), UGCC Head, discussed this during his presentation on the Russian edition of Radio Vatican.
His Beatitude Sviatoslav stated that today in Ukraine, close to 40% of the inhabitants are not evangelized.  "They feel some craving for God but have yet reached a full understanding of a Christian life," noted the UGCC Primate.  This mainly refers to non-baptized people.  Sometimes it is difficult to discern whether this mission towards these people is a new evangelization or whether it is the primary evangelization, the original proclamation of faith."  UGCC Head emphasized that the Church today feels its obligation to preach the Word of God everywhere where their faithful exist, and to all people who today need the Word of God. In reporting on his impressions from the XIII General Assembly of the Synod of Bishops, UGCC Primate stated that this Synod is a beneficial event for the whole Catholic Church because it gathered bishops from the whole world to share their enthusiasm and experience in how to preach the Word of God in different countries and among different cultures.  "Such an exchange of experience is a mutual enrichment for all," claimed he.  His Beatitude Sviatoslav also reported that at present the UGCC Church is experiencing its rebirth, that is, "its resurrection after a lasting period of persecution on the territory of the former Soviet Union."  "The presence of our faithful throughout the world gives us new impetus to revive UGCC parishes and eparchies.  The Lord reveals to us every day new needs, related to the presence of our faithful throughout the world," emphasized UGCC Head. In addition, the UGCC Primate stated that there are many Ukrainian Greek-Catholics in Russia, who have ended up there due to historical circumstances.  "So in Siberia as a result of deportation of Ukrainians during the Stalin repressions, there are many UGCC faithful, and their number is no less in the European parts of Russia, where many work there.  They are spiritually tied with our Church and we understand our obligation to provide them with pastoral care," noted His Beatitude Sviatoslav. Note that in the Vatican, on October 7-28, 2012, the XIII Assembly of the Synod of Bishops is taking place, focusing on the topic "New Evangelization of Transmitting Faith." UGCC Department of Information  

PUBLICATIONS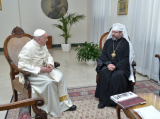 3 July at 10:00 AM, at Casa Santa Marta in the Vatican, Pope Francis met with His Beatitude Sviatoslav. The meeting was held at the request of the...
MEDIA