Exarch of Odesa-Crimea blessed a chapel and a cross as a foundation of a UGCC church in Kirvohrad
Thursday, 31 January 2013, 07:11
On January 27, 2013, in the town of Znamianka in Kirvohrad region, a temporary UGCC chapel of the Assumption of the Blessed Mother and a cross were blessed as a foundation for the building of a church. The Divine Liturgy and the blessing were headed by Bishop Vasyl (Ivasiuk), UGCC Odesa-Crimea Exarch.
Concelebrants of the blessing were:  Rev. Viktor Pryidun, chancellor of the UGCC Odesa-Kirvohrad Exarchate, Rev. Ivan Tretiak,  Rev. Yaroslav Volosetsky and a priest from the local UAOC community.  Rev. Ivan Prots, administrator of the UGCC parish of the Assumption of the Blessed Mother told the UGCC Department of Information that the Greek-Catholic parish was registered in 2010.  According to the priest, "it took some two years of attempts to receive a piece of land for the building. However, unfortunately, the local authorities did not authorize the allotment of a parcel of land.  Therefore, it was only due to the generosity of the benefactors: Bishop Vasyl (Semeniuk), Archbishop and Metropolitan of Ternopil-Zboriv and  Rev. Petro Krynitsky, that a land parcel was received.  Thank God, through the support of the benefactors, we received ten acres of land," commented the priest.
The community consists of some 30 faithful (as local residents as well as those who resettled there from western Ukraine).  As Rev. Ivan states, although there prevails in the local authorities a negative attitude towards the presence of a UGCC parish, there are many residents who actively participate in the life of the community.  "In our hearts we have a firm belief that on the spot of a temporary chapel, a large church  will be built," stated the priest.
UGCC Department of Information
PUBLICATIONS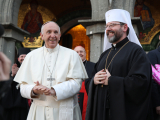 ROME - As the Catholic Church's Synod of Bishops in Rome was meeting on Oct. 11, it was another synod across the Aegean Sea in Turkey that sent...
MEDIA