Fear not challenges, pitfalls and our national crucifixion, His Beatitude Sviatoslav
Monday, 01 October 2018, 10:40
Church invites to find in one's life, heart and searches a place, time and space for the Precious and Life-Giving Cross. Modern people do not know how to tackle difficulties and conquer them, as they escape everything what is supposed to be difficult and unbearable.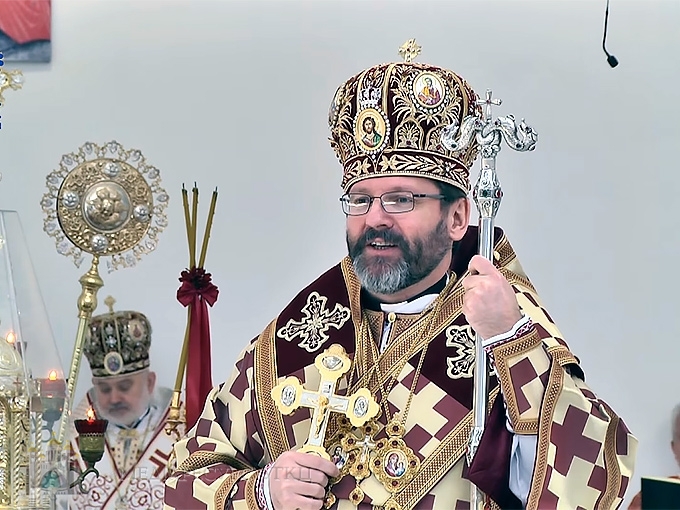 Head and Father of UGCC His Beatitude Sviatoslav emphasized during his homily to the faithful at Patriarchal Cathedral of the Resurrection of Christ in Kyiv, Thursday, September 27 on the day of the Exaltation of the Precious and Life-Giving Cross, one of the biggest Christian feasts.
"The mystery of the Cross reveals something much deeper, as exactly in this moment God openly declares His power, love and presence by a person who is suffering. We shall not be afraid of our challenges, pitfalls and our national crucifixion. The life – giving Cross is with us and we become winners in it. It grants us strength and wisdom", stressed Head of UGCC.
Apart from that the spiritual leader of Greek Catholics mentioned his visit to Lithuania, during what one of the bishops stated appropriately that "Creator draws closely to the one who is suffering and who is crucified". "Ukraine is crucified today. Nevertheless, Creator is the closest to us", said the bishop.
As to Head of Church, this feast is connected with one historical event. Roman chronicles claim that in IV Emperor Constantine decided to set off the first archeological expedition. He sent his mother Helena to Jerusalem with a clear command to find a Cross upon which Jesus Christ was crucified. That is why this feast marks the end of an expedition. It has an important historical element in itself.
"At the moment of finding a treasure, maybe, for some practical reasons this Cross was lifted up, so crowds of people could have seen what the emperor had been looking for such a long time. However, the accession of the Cross – a mystical experience of Church - was seen as a moment of great glorification of the One Who was humiliated yesterday", added His Beatitude Sviatoslav.
He is convinced that each of us is invited to experience this event in a spiritual way, as modern people escape difficulties, looks for pleasure without taking any responsibility for…
UGCC Department for Information
MEDIA