Head of the UGCC expressed solidarity with the Armenians
Thursday, 23 April 2015, 12:14
On the eve of commemoration of the hundredth anniversary of the massacre of Armenians in the Ottoman Empire, His Beatitude Sviatoslav expressed his solidarity and prayer support to Head of Armenian Christians - His Holiness Catholicos of All Armenians Karekin II, Head of the Armenian Apostolic Church, His Beatitude Patriarch and Nerses Bedros XIX Tarmuni, Head of the Armenian Catholic Church. This was reported in the Curia of the Archbishop.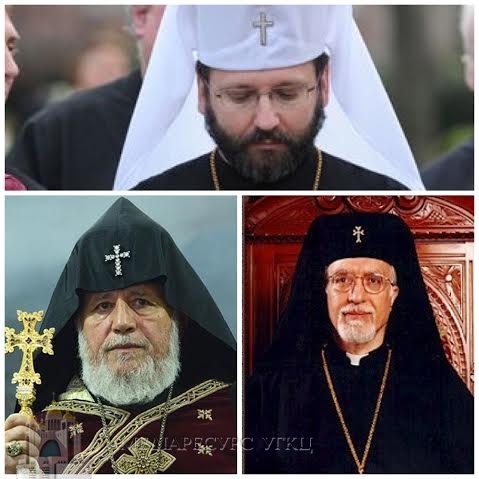 In the letter the Head of the UGCC writes to His Holiness Catholicos of All Armenians Karekin II, the Head of the Armenian Apostolic Church, in particular, states:

"On April 24th the whole world will be united with the Armenian community to commemorate the mass killings of 1.5 million Armenians which took place exactly one hundred years ago in the Ottoman Empire. On behalf of the Ukrainian Greek Catholic Church I would like to express our words of solidarity and assure Your Holiness of our prayers for the innocently killed victims of "Medz Yeghern", sons and daughters of the Armenian people.
The XX century has been one of the most cruel periods in the history of humanity when the evil and hatred targeted the most vulnerable and unprotected people. Millions of people killed by Nazi and Communist regimes as well as mass killings of the Armenians are victims to these ideologies of hatred in the last century.
Pope Francis has rightly called the tragedy of your people "the first Genocide of the XX century". Extermination of 1.5 million Armenians has changed the religious map of that part of the world where Christianity once flourished. During those persecutions a great number of monuments of Christian culture has been destroyed forever. We are saddened by the fact that the persecutions of the Christians still continues in the Middle East even nowadays, and the Armenian community is again a subject of sufferings in Syria and Iraq. We invoke our prayers to the Heavenly Father for all the martyrs of the XX century and for all those who are being persecuted for their Christian faith.
We, Ukrainians, know very well the pain and the suffering of the Armenian people. The painful wounds from the past as well as innocent victims of the present unite our communities and can serve as a foundation for further cooperation in search of mutual recognition of the sufferings inflicted upon our nations.
One of the places where Ukrainian and Armenian communities not only co-exist but also serve one another with brotherly love is Lviv. I cherish very pleasant memories of visiting the Armenian Cathedral in Lviv where our Christian unity becomes more visible during common prayers.
Our Churches and peoples face great future, because the history of the martyrdom reveals that its seeds bring about abundant fruits. May our peoples become worthy heirs of the great sacrifice of our innocently killed ancestors and build the future of our societies founded on Christian values keeping in mind our responsibility before our ancestors".
Department of Information UGCC
MEDIA