Head of the UGCC presented to the representative of Germany position of the UGCC on the unifying processes of Ukrainian Orthodoxy
Sunday, 04 November 2018, 19:38
On November 2, 2018, the Father and Head of the Ukrainian Greek Catholic Church, His Beatitude Sviatoslav met with the Head of the Department of Culture of the German Embassy in Ukraine Mr. Sebastian Gromig. During the meeting, which was held at the request of the German side, the current religious situation in Ukraine was discussed. Mr. Gromig was interested in the opinion and position of the UGCC on unifying processes in the Ukrainian Orthodox community.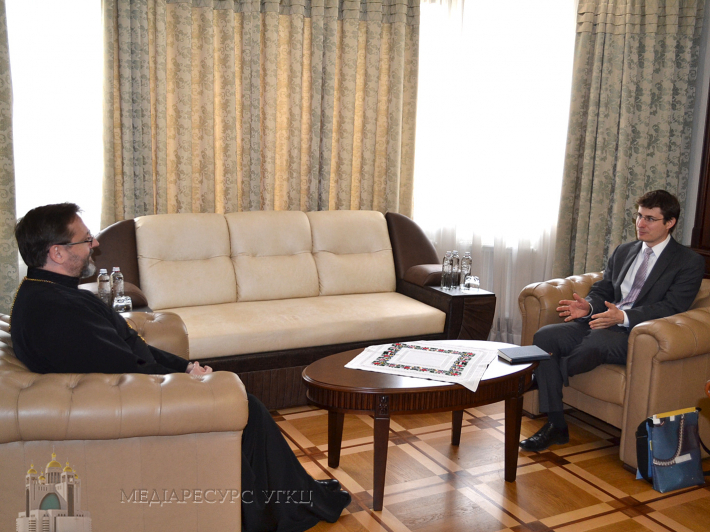 "First of all," said His Beatitude Sviatoslav, "we are positively evaluating all attempts to achieve the internal unity of the Ukrainian Orthodoxy and overcome existing divisions, as well as regulate the canonical status of all Orthodox jurisdictions in Ukraine. We value this primarily from the pastoral point of view and concern for the good and salvation of human souls."
At the same time, we believe, the Primate added, that these processes are an internal affair of the Orthodox side itself. "We do not interfere in them, we do not take part in them and generally try not to comment because it is beyond our competence. In accordance with our ecumenical concept, we want to build sincere, open relations with all churches and religious organizations of Ukraine," said His Beatitude Sviatoslav.
The Head of the Church also emphasized that the UGCC is trying to be the Church, which is in the guard of genuine religious freedom in Ukraine. "We are entirely opposed to the fact that the state might be privileged to one separate Church or religious organization. For all the Churches, regardless of their size, are equal before the law," noted the Primate.
His Beatitude Sviatoslav also expressed his conviction that true democracy and the level of religious freedom are manifested in the extent to which the rights of religious minorities are secured.
In conclusion, the representative of the Embassy of Germany assured that the German side is very closely monitoring the process of unification of the Orthodox in Ukraine and advocates that the religious rights of all citizens be respected. Accordingly, he would advocate that the rights and freedoms of the UGCC on the part of the Ukrainian State be properly secured.
Department of Information of the UGCC
PUBLICATIONS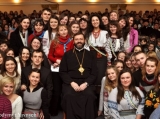 If, therefore, the Son sets you free, you will be free indeed. Jn 8:36
MEDIA