Head of the UGCC sanctified a memorial bas-relief to Metropolitan Andrey in Lviv Opera House
Saturday, 27 August 2016, 14:05
Today I have been honoured by God to sanctify a monumental bas-relief to the righteous metropolitan Andrey Sheptytsky in this temple of art in Lviv, known around the world – National Theatre of Opera and Ballet of Solomiya Krushelnytska.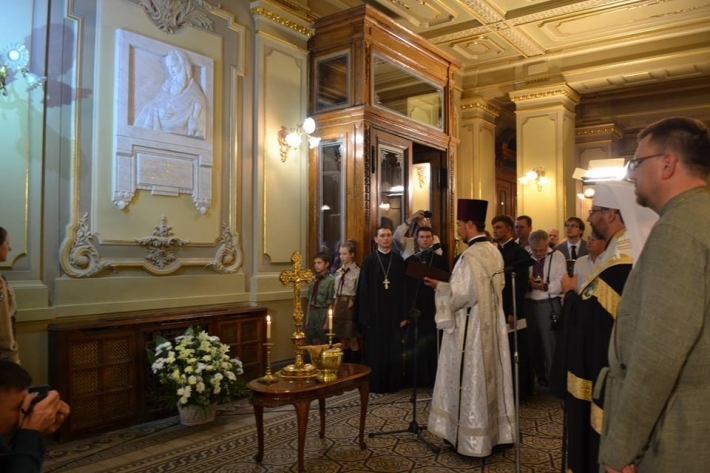 Metropolitan Andrey means to Ukrainian people the same what means Saint John Paul II in the newest history of Europe. Well-chosen words are engraved in this snow-white bar-relief. I encourage everyone approach, read these words and think: "Life is art, and works of this art are acts of mind, volition and soul".
Said Head and Father of the UGCC His Beatitude Sviatoslav after sanctifying memorial bas-relief to the righteous metropolitan Andrey Sheptytsky on August 26th. In the process of sanctifying also participated Metropolitan Ihor, Archbishop of Lviv and Bishop Volodymyr, Bishop-Auxiliary of Lviv.
The bar-relief to the Metropolitan is disposed in foyer of Opera House near the bar-relief to Pope John Paul II.
"In this bar-relief we see the righteous Metropolitan as an artist, first of all, of holiness of a human soul, - His Beatitude Sviatoslav continued. – This artist loved Ukraine with all his soul, and all his acts of mind and volition, all feelings of his heart is our modern Ukrainian heritage".
The Major Archbishop added that this occasion has synchronized with celebration of 25th Independence Day in Ukraine and decommunisation process: "Along this historical moment figure of Metropolitan – the great Artist, builder not only of a human soul but whole Ukrainian statehood as well, begin to shine throughout Ukraine. New streets and squares that appear in Ukraine are getting his name". According to his words, today our people need someone who can unite us anew, awakening deep strength of mind and volition among our people.
"I testify you that a uniting strength what our people got is holiness, wisdom and a living word of a great Moses of Ukrainian people, bishop Andrey. Thank you all, who not only honour him but accept his spirit, benefit from a divine wisdom what is poured upon us through his pastoral appeals. Exactly Lviv becomes a lighthouse, spreading light of metropolitan Andrey and showing whole Ukraine that we are on the right way", His Beatitude Sviatoslav said at the end.
The UGCC Department of Information
MEDIA