Head of the UGCC spoke about diplomatic potential of the Holy See in striving for peace in Ukraine
Saturday, 04 December 2021, 17:01
Recently the Father and Head of the UGCC His Beatitude Sviatoslav had an audience with His Holiness Pope Francis. One of the things discussed was a current situation in Ukraine and the war. An intermediary potential of the Holy See for striving to establish peace in Ukraine was brought up at Kyiv security forum on December 1.
His Beatitude Sviatoslav told about readiness of the Holy See to become an intermediary in negotiations between Ukraine and Russia and not allow speculation on people's disaster to happen.
He also said that His Holiness is extremely concerned with Ukraine and added that Pope Francis would possibly pay his visit to Ukraine next year.
"The fact that Pope is thinking how, when and with what to visit us is a distinct sign of support to our country. A lot of us have this feeling that Pope's visitation the war will come to its end".
His Beatitude Sviatoslav explained peculiarities of Vatican's diplomacy the core element of which is to be an intermediary, a bridge for negotiations of two sides which are ready to come to an agreement.
"We would like to hear clearer statements from the side of the Holy See in regard to this aggression against Ukraine. However, the diplomacy of Vatican differs from all others diplomatic tactics, which is exactly to adhere to a mission of intermediary. Hence, it is important not to express oneself sharply towards anyone. The Holy See is ready to take up this role of intermediary in our case. Yet, this can be accomplished only if two sides agree on that. Ukraine is ready and Russia is not, since they do not admit being an aggressor. Thus, nobody needs an intermediary here, but it is needed between Ukraine and so-called DNR. This way we see how differently the mechanism of this intermediary is implemented and its aim in the long run. On the part of the Holy see we feel and have this support and understanding of the situation".
"Numerous steps have been made in order to recover from this war, run different humanitarian campaigns for those who have been affected by it", the Head of the UGCC emphasized and recalled a campaign "Pope for Ukraine", which was not that much significant in view of fiancés, however it was colossal mobilization of Ukrainians from western part of Ukraine directed on the needs of Ukraine on the whole. Another clear evidence of Pope's support was manifested when he announced fund-raising to support Ukraine at all Catholic parishes of Europe, meaning that one simple gesture broke taboo to talk about the war in Ukraine. All this is already a tremendous support and solidarity with our country and our people".
The UGCC Department for Information
PUBLICATIONS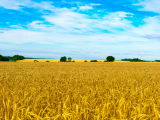 The Catholic Bishops of Poland and Ukraine issue a joint appeal for dialogue and understanding to avoid the danger of war. They also join Pope...
MEDIA