Head of the UGCC took part in the opening of a memorial commemorative plaque in honor of victims of political repressions of the twentieth century in Kiev
Tuesday, 27 September 2016, 15:52
Today is a historic day in the life of Ukraine, because the Church and religious organizations with state officials opened a memorial plaque in honor of repressed thousands of innocent victims of the Nazi and communist political regimes. At that time the doors of hell in Ukraine was this gate to the inner prison in Kiev. Patriarch Joseph Slipyi was led through this door.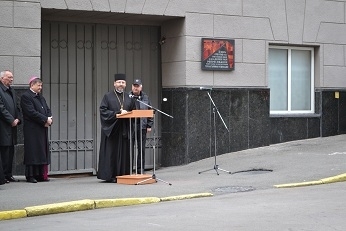 Said His Beatitude Sviatоslav on 26th of September on the event of opening of the memorial board in honor of victims of political repressions of the twentieth century. The board opened on the former site of entry and exit to the inner prison of the central apparatus of the NKVD of USSR.
Participating in the event were members AUCCRO, Head of the Security Service of Ukraine (SSU) Vasyl Hrycak and representatives of the government. Then head of the church said: "Grateful to you for what you have responded to our request, which we have expressed to you personally. Because hundreds of thousands of people whose relatives died in those terrible dungeons, have no place to pray. We asked to here, where the walls have absorbed blood, tears and suffering of innocent victims, was prayer. Thank you for responding to this request. "
According to the Primate of the Church, this event is also significant because it represents the internal degeneration of the SSU, which "with repressive institution becomes an institution that protect Ukraine and its citizens." "May God help you to guard the security of a free and independent Ukraine will take in their eternal embrace of the innocently killed, regardless of religious and national identity", - he said.
UGCC Information Department
PUBLICATIONS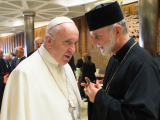 An unprecedented event took place in Rome on July 5-6. Desiring to demonstrate support for the Ukrainian Greek-Catholic Church at a time of...
MEDIA