Head of the Ukrainian Greek Catholic Church during press conference in Rome calls on Christians to help end conflict
Tuesday, 24 February 2015, 15:40
On 23rd of February, at 12 at the press-centre of Radio Vatican (sala Marconi), His Beatitude Sviatoslav, the Head of the UGCC held a press-conference, speaking on topic "The pastoral challenges of the Ukrainian Greek Catholic Church in war conditions"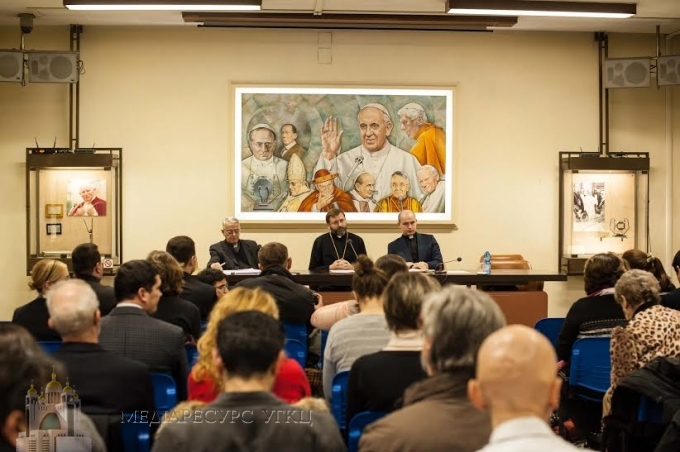 His Beatitude Sviatoslav met the press and answered questions put to him by journalists. Amongst other things he stressed that the humanitarian situation is worsening as a result of the war and he reiterated that what is being witnessed in Ukraine "is not a local conflict, but an external assault". He also said he informed Francis that the expression "fratricidal war" which he used in recent days "has hurt the sensibilities of the Ukrainians" as it seemed to echo what the Russians said about the war in Ukraine being internal conflict
Archbishop Shevchuk also mentioned the words the Pope addressed to Ukraine's bishops - "I am at your side and at your service".
Shevchuk told international journalists about the humanitarian crisis in Ukraine connected with war in the east and post-traumatic syndrome that has affected whole Ukrainian society.
"The war always brings destruction and misery. The Ukrainian economy is really flopping and is facing a crisis. Officially, the UN has declared that there are a million displaced in Ukraine but church bodies tell us that this figure is in actual fact double. Almost 600,000 people have been forced to flee to other countries. The Ukrainian government is unable to manage this situation. I call this situation a humanitarian catastrophe on a scale that has not been witnessed in Eastern Europe since World War II. For this reason I have asked the Holy Father and various bodies of the Roman Curia to launch an appeal for humanitarian aid on an international level. We have managed to provide shelter to 40,000 people in our Ukrainian Caritas centres, but this is not enough: there are 140,000 children among the displaced and then there are the wounded. So in order to really save human lives we need solidarity on an international level."
Head of the Ukrainian Greek Catholic Church also mentioned that the Ukrainian bishops invited Pope Francis to visit Ukraine and said that it "would be such a prophetic gesture".
Source:RISU
PUBLICATIONS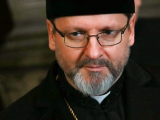 Glory to Jesus Christ! Dear Brothers and Sisters in Christ!
MEDIA