Heads of Churches Call President to Veto Alterations to Law on Freedom of Worship
Saturday, 20 October 2012, 12:05
Heads of Churches and Religious Organizations called Ukraine's President to veto the alterations to the Law of Ukraine "On freedom of worship and religious organizations," envisaged by the passed Bill 10221.
The letter of the religious leaders was passed directly to Viktor Yanukovych during his meeting with the members of the All-Ukrainian Council of Churches and Religious Organizations (AUCCRO) on 17 October, 2012 in the office of the presidential administration. So reported the Institute for Religious Freedom (IRF).

"We view the development by the Ministry of Justice and adoption by the Supreme council of Bill 10221 as steps to destabilization of religious situation in the society, lowering of the level of freedom of confession in Ukraine, putting significant obstacles in the way of spiritual and social ministries of the Churches an d religious organizations," stressed the heads of denominations in the letter.

According to the hierarchs the veto is necessary because by this decision the parliamentary majority completely ignored the position of the religious community and the agreements reached between the Council of Churches and the author of the bill, Permanent Representative of the President, Yurii Miroshnychenko and the Ministry of Justice of Ukraine.

The religious leaders reminded the president of the promise given at the first meeting with members of AUCCRO on 21 April, 2011 that no alterations would be made to the laws on the freedom of worship without support thereof by the denominations. However, the bill was passed without discussion or consideration of any amendments proposed for the second reading.

The passed law considerably complicates the procedure of assumption by religious organizations of the status of a legal person as it introduces two unmatched registration procedures, that of statutory documents and state registration (entering in the unified register of legal persons).

Bill 10221 also complicates the procedure of obtaining by foreign religious ministers of permissions to stay in Ukraine required for issuance of visas. Religious organizations are now to apply for such permissions in the Ministry of Culture in Kyiv which is in contradiction to Article 24 of the Law of Ukraine "On Freedom of worship and religious organizations."

In addition, the bill allows the authorities to exercise control over observance of the laws on freedom of worship and confession like in the Soviet times.
RISU
PUBLICATIONS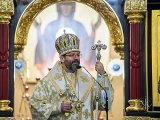 Head of the Ukrainian Greek Catholic Church brings multifaceted experience to project of evangelization.
MEDIA