His Beatitude Patriarch Sviatoslav Visits Stockport and Wolverhampton
Wednesday, 25 October 2017, 12:36
On Monday 23rd October 2017, His Beatitude Patriarch Sviatoslav concluded his tour of Ukrainian Catholic parishes in Great Britain with a visit to Stockport and Wolverhampton Ukrainian communities.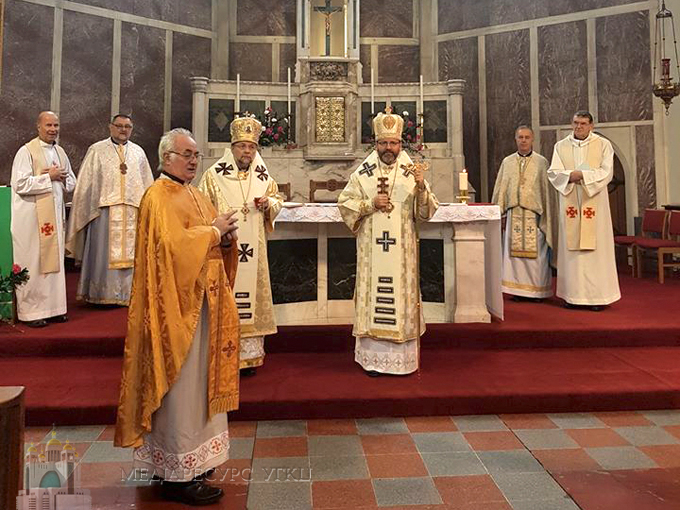 Upon his arrival, Rev Ewhen Nebesniak SDB and Mr Mykola Matezsko (AUGB Stockport chairman) welcomed His Beatitude Patriarch Sviatoslav, who was accompanied by Bishop Hlib, clergy from the Ukrainian Catholic Eparchy of the Holy Family, and the Sacred Heart Fathers based at St Joseph's RC Church. Also in attendance was Councillor Linda Holt (Mayor of Stockport). During the homily given at the Divine Liturgy, His Beatitude spoke of Christian solidarity, hospitality and brotherly love expressed between Ukrainian Catholics in Stockport and the Roman Catholic parish of St Joseph which, almost seventy years ago, opened their doors to Ukrainians.
In the afternoon, His Beatitude served a Moleben to the Mother of God at the Church of Saints Volodymyr and Olha. Parishioners, and faithful from nearby towns and cities in the Midlands, gathered together with their parish priest Very Rev Dr Oleksandr Lisovskyj, to greet and welcome the Head of the Ukrainian Catholic Church to their parish. Also in attendance was Councillor Elias Mattu (Mayor of the City of Wolverhampton). It was a historic occasion for the community, as it was the first time since the consecration of the church - which was built to mark the Millennium of Christianity in Ukraine - that the Spiritual Father of the Church visited Wolverhampton.
Speaking at a reception held in Stockport Ukrainian Centre, and at the banquet held in his honour at Wolverhampton Ukrainian Cultural Centre, His Beatitude talked of the importance of keeping faith and culture at the heart of Ukrainian life in the UK. By doing so, the Church will not only survive, but also prosper as its richness and strength lies within its faithful.
For more information regarding the UCC60 celebrations please contact:
Name: Myroslava Matwijiwskyj
Mobile: +44 (0)7595 896 781
Email: eparchy@ukrainianchurch.org.uk
PUBLICATIONS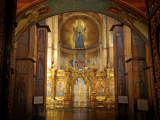 Dear brothers and sisters in Christ! Throughout our millennial history, our Church and our people have fully experienced in their bodies the...
MEDIA