His Beatitude Sviatoslav about the actuality of the present Synod of Bishops for the life of Catholics in Ukraine
Saturday, 11 October 2014, 12:31
On 11 October, 2014, His Beatitude Sviatoslav (Shevchuk), the Head of the UGCC participating in the Synod of Bishops at the Vatican, dedicated to the challenges of pastoral care of the family, had the meeting with the juornalists during which He answered the question in English, Italian and Ukrainian languages, talking about the course of Synod, about the special experience, which in this context can share the UGCC and the current socio-political situation in Ukraine.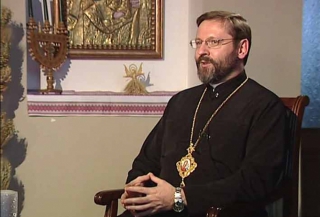 Having answered the questions of the journalist of Radio Vatican English edition, He, in particular, spoke about the special role of the family during the communist regime in Ukraine for the preservation and transmission of faith and human dignity, and told about the proposals made for the synodal fathers in the light of eastern Christian spirituality.
Speaking in Italian, His Beatitude Sviatoslav called on the international community to resort to all possible means of mediation, to make the fragile and practically onesided truce in Ukraine ripe for a genuine and lasting peace. He also thanked the Bishops' Conference of Italy for their support and solidarity, asking for its long lasting, taking into consideration the fact that in Ukraine there are almost half a million temporarily displaced people.
Here is what the Head of the UGCC told about the importance of the present Vatican Synod in the life of the Ecumenical Church and the Ukrainian Catholics in particular: (listen).
Are the themes of the Synod relevant for Ukraine, which are particularly marked in the Western media, such as the protection of unborn life, contraception, pastoral care for the divorced? That was the next question, to which His Beatitude Sviatoslav replied: (listen).
He also shared His thoughts on what he does and what the Church should do to respond to these challenges: (listen).
The Head of the UGCC also answered the questions about which decisions are to be expected on the basis of the present emergency Synodal assembly, taking into consideration the fact that next year is scheduled the Regular General Assembly of the Synod of Bishops: (listen).
Vatican Radio
PUBLICATIONS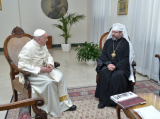 3 July at 10:00 AM, at Casa Santa Marta in the Vatican, Pope Francis met with His Beatitude Sviatoslav. The meeting was held at the request of the...
MEDIA