His Beatitude Sviatoslav blessed the Monument of the Heavenly Hundred in Kyiv
Monday, 25 August 2014, 16:08
On the 23rd anniversary of the independence of Ukraine, the Father and Head of the Ukrainian Greek-Catholic Church, His Beatitude Sviatoslav blessed a Memorial Cross of the Heavenly Hundred near the interconfessional Church of St. Mykola the Miracle Worker at the National Technical University of Ukraine – KPT.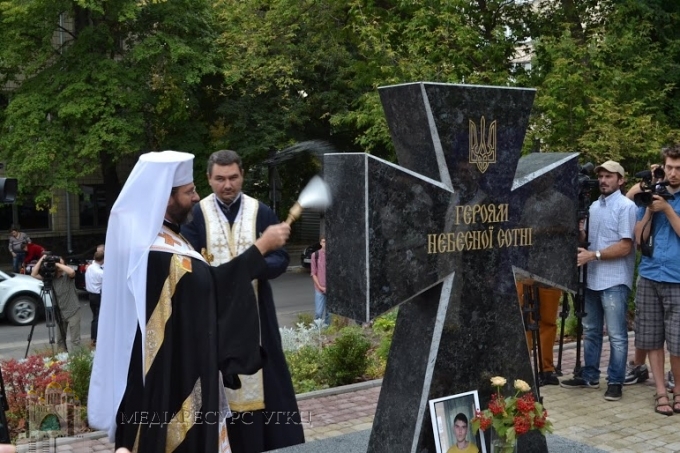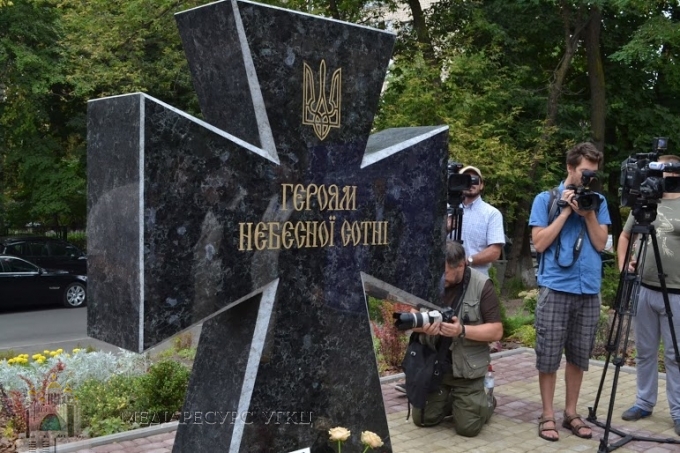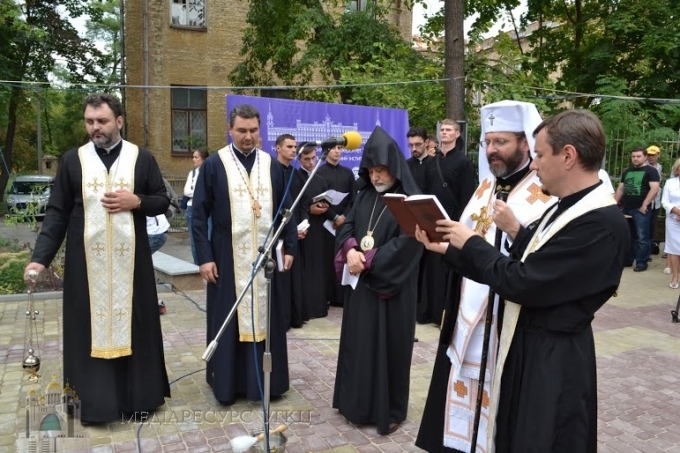 Why a cross? "For us, Christians," turned to the attendees the Primate, "the Cross is a sign of victory because on it the Son of God Jesus Christ through his death overcame death and gave us life. This sign He left us so that we would overcome our enemies. Today the Lord places this sign of victory into our hands, into the hands of our students, our youth."
Also according to the words of the Church Head, the Cross is also a sign of reconciliation. "Apostle Paul teaches that after Jesus Christ died on the Cross, the person and God reconciled. On the Cross
Our Savior appeared to us as our peace. The Cross is a sign of freedom from sin and death, a sign of the hope for a better future, a key which opens heaven," stated UGCC Primate.
"This Cross," said His Beatitude Sviatoslav, "we blessed to honor the Heavenly Hundred. Because the Heavenly Hundred through their death became victorious. And today, this is no longer the only Heavenly Hundred. Our young people, students, who gave up their lives, in this act of self-sacrifice overcame the enemy." "May their sacrifice on Independence Day be a call for reconciliation, so that we are able to embrace one another, to surmount all difficulties and divisions which hinder us to build a consolidated society. The Heavenly Hundred is composed of representatives of many countries. The first victims were the sons of Belarus and Georgia. May the call of the Heavenly Hundred be for us today an appeal for our internal Ukrainian unity. And may this call also be a call for freedom since in order to give one's life for one's country, one has to be free," emphasized the Major Archbishop.
He asked that we beseech Our Savior to"grant us peace in our country, a victory over our enemies, and the strength of a fraternal union." "And may the Blessed Virgin Mary, who stood beneath the Cross,sacrificing her son, serve as an example for every mother who today holds the life of her sons in her hands and prays for their life and a better future," stated his Beatitude Sviatoslav.
The Church Head greeted all with Independence Day. He also thanked all who contributed towards the building of the interconfessional Church of St. Mykola the Miracle Worker and noted its importance.
Among the participants at the Blessing of the Memorial Cross of the Heavenly Hundred, were representatives of various confessions and Churches, renowed Ukrainian writers, poets, KPT directors, students and faculty, community activists and government representatives. Before the Blessing, UGCC Head celebrated a public prayer to the Blessed Mother, beseeching our Heavenly Intercessor for peace in Ukraine.
UGCC Department of Information
MEDIA