His Beatitude Sviatoslav consecrated iconostasis of Sisters Myrrhophores in Ivano-Frankivsk
Sunday, 29 June 2014, 09:46
With the consecration of the iconostasis and the evesong began the celebrating of the 100th anniversary of the founding of the Sisters Myrrhophores Congregation.
"We begin this evening prayer of thanksgiving for all these years that the Lord God has given you and our Church", - said His Beatitude Sviatoslav, the Head of the UGCC, referring to the sisters myrrhophores in Ivano-Frankivsk.
"Evesong – is a divine service we begin a new day in our liturgical prayer with. It is a service in which we experience the spiritual creation of the world. And when we pray to God the Creator we will give thanks for the sisters myrrhophores", - said the Preacher.
Before the Evesong the iconostasis, "which is a window to the heaven", was consecrated. "Having sanctified the iconostasis, we will see a great light of God, for because of these icons God reveals who, except people, is present. Indeed the icon makes present those who are drawn on it",- stressed His Beatitude.
With the Head of the UGCC coserved the Bishop Volodymyr (Viytyshyn), the Archbishop and Metropolitan of Ivano-Frankivsk.
In conclusion, His Beatitude Sviatoslav welcomed the sisters and asked the God's blessing for them.
UGCC Department of Information
PUBLICATIONS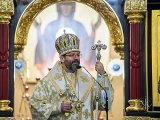 Head of the Ukrainian Greek Catholic Church brings multifaceted experience to project of evangelization.
MEDIA