His Beatitude Sviatoslav greeted Ukrainian families with the Birth of the Savior
Saturday, 07 January 2017, 12:18
"I would like to greet each Ukrainian family with mysterious Birth of the Savior. When we sit together to have Holy Supper, we feel that with us at the holiday table is the Most Holy Family - Mary, Joseph, and the newborn Baby Jesus. So let us rejoice, sing carols, and share this joy! May the power of hope, which we are already carrying in our arms as the newborn Savior, accompanies us on all days of our life.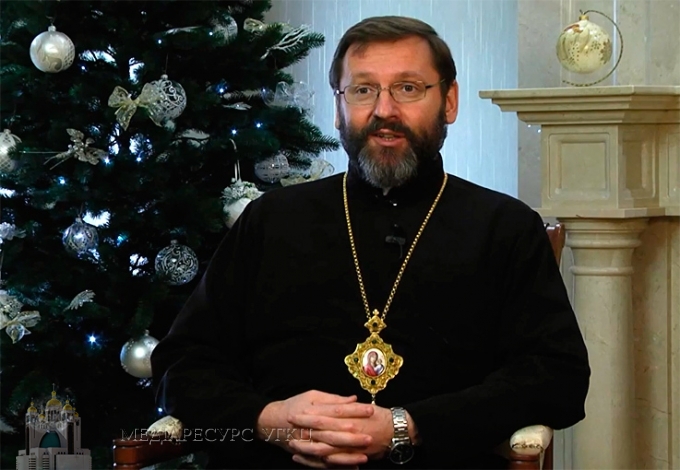 May resound the ancient kolyada-carol as a gospel of peace of Ukraine for every faithful in the whole world. I wish you a blessed Christmas, tasty kutya, merry kolyada and a happy New Year!"
With such words the Head and Father of the UGCC His Beatitude Sviatoslav greets Ukrainian families with Christmas on "Live TV".
"Today we are celebrating one of the most majestic Christian holidays - the lightsome feast of Christmas, a holiday of birth of eternal God in a human body," he goes on in the greeting message. - "Holy Fathers, teachers of Church, in order to reveal the meaning of Christmas, taught us that in this event the opposites are combined: eternal, incomprehensible and inaccessible God becomes a man. He becomes not just accessible but close to each of us."
For, according to his words, He is not just accessible but close to each of us. The newborn Jesus takes on Himself all our pains, sufferings and joys, which trouble our hearts in this new year. "Once being born in Bethlehem, Jesus didn't throw off His human nature", underlined the Head of the Church, noting that every year, when celebrating Christmas, we re-open God for ourselves, Who is present at our today's historical moment.
Why do we live in the times of war? What is the sense of our suffering? "No one can give a full answer to these questions. The newborn Savior gives an answer in Christmas... He says to us today not to be afraid because He is with us till the end of the world", teaches His Beatitude Sviatoslav.
The Head of the Church calls to accept this God's Baby, Whom the Heavenly Father through Virgin Mary passes on to Ukraine: "Rejoice with Him because in Him - there are answers to all difficult questions of life. He is our future and joy, hope and coming true of everything which our hearts desire."
The UGCC Department of Information
MEDIA