His Beatitude Sviatoslav Head and Father of UGCC visited migrants of UGCC from Central and West Europe while visiting Fatima in Portugal
Saturday, 22 October 2016, 10:17
"This is a remarkable historic event what we are witnessing today in Fatima. A Forum is taking place along with Meeting of East Catholic bishops of Europe. And this year we have the identical theme to discuss – a proper pastoral care for migrants from East Catholic Churches which are staying in Central and West Europe today", Head of Church noticed.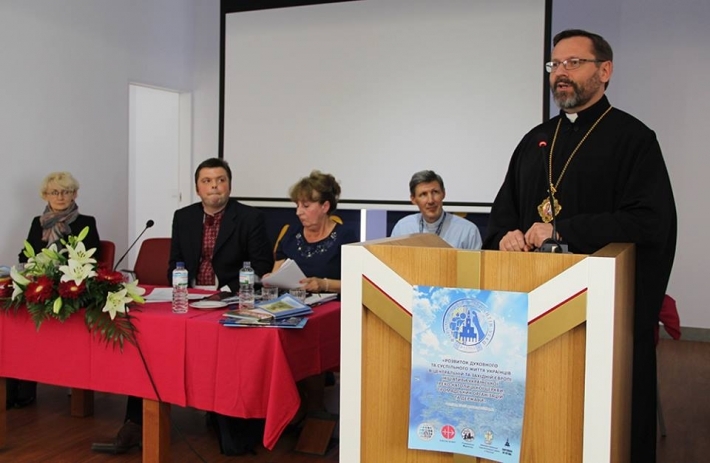 He indicated that migration is an inevitable part of a globalization process. "Our Church has gone through the process of globalization, beginning from the end of XIX century. UGCC has always been with its people. Church went wherever its people went to. Thank to our migrants UGCC became a global Church. Today UGCC is a Church of worldwide range".
Head of UGCC noticed that because of the globalization process world is facing great changes today. "World starts moving fast, - it is not primarily about ideas and money, but about people too. Everything what we can see in Europe today – is revoking old demons which seemed to be casted aside. These are "national egoisms", old colonial appetites, imperial ambitions, extreme national ideas. Similar processes were not the last reasons of two world wars. We are facing a considerable challenge – to prevent new global processes from begetting further escalation of violence", Head of UGCC pointed out.
Discussing possible ways of finding answers how to deal with migration, His Beatitude Sviatoslav mentioned that we should be governed by a rule: integration but never assimilation. "Integration means – wherever we live, we need to contribute to the life of this society. Ukrainians have always wanted to be inside of public, cultural, political life. Integration is extremely important, as we have what to say to this world and we have to do it", Head of UGCC stressed on.
His Beatitude Sviatoslav said that speed of assimilation of new Ukrainian communities in Europe is much higher today than it was after World War II. "Children of our migrants in Europe, within their earliest generation start to lose their language, their culture, their Church and everything we call as roots. During the previous wave of migration - the process of assimilation began in the third or even fifth generation", said Head of UGCC.
Talking about the ways of preventing assimilation, His Beatitude Sviatoslav mentioned cultural and public organizations, school and Church. "Church communities have always been a core, gathering around them public organizations and schools. Church community became the first space of asocial service", he stressed.
Major Archbishop wished the participants of the Forum all God's blessings. "I want to promise you, your Church has always been with you", Head of Church assured all the present ones. – We do not have answers to all questions. But Christ says: Ask and it will be given to you; seek and you will find; knock and the door will be opened to you". I wish you could find at least something, at least someone should have already opened you, and God may grant us everything we need so much, especially peace for our long-suffering Ukrainian land!", His Beatitude Sviatoslav pointed out.
We remind that Head of UGCC arrived to Portugal for participating in Meeting of bishops of East Catholic Churches of Europe, what is taking place in Fatima these days.
Department of Information UGCC
PUBLICATIONS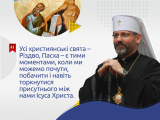 All the richness of the Christian life, our feasts, our Divine Liturgy are an opportunity to experience the events that the apostles went...
MEDIA