His Beatitude Sviatoslav met with Patriarch Filaret
Thursday, 29 November 2018, 09:18
On November 25, 2018, His Beatitude Svyatoslav, the Primate of the Ukrainian Greek Catholic Church, and Patriarch Filaret, the Primate of the Ukrainian Orthodox Church of Kyiv Patriarchate, met in Kyiv. The purpose of the visit of the Head of the UGCC to the residence of Patriarch Filaret - to give him the facsimile edition of the Galician Gospel of 1144, which presentation was held on November 23 in Sofia, Kyiv.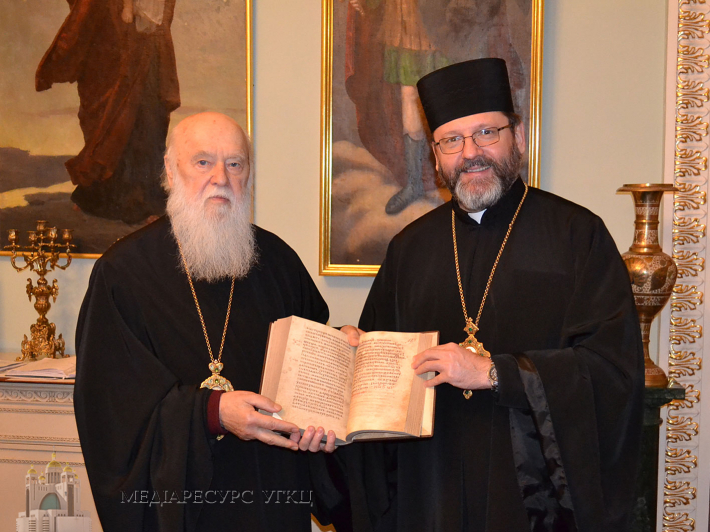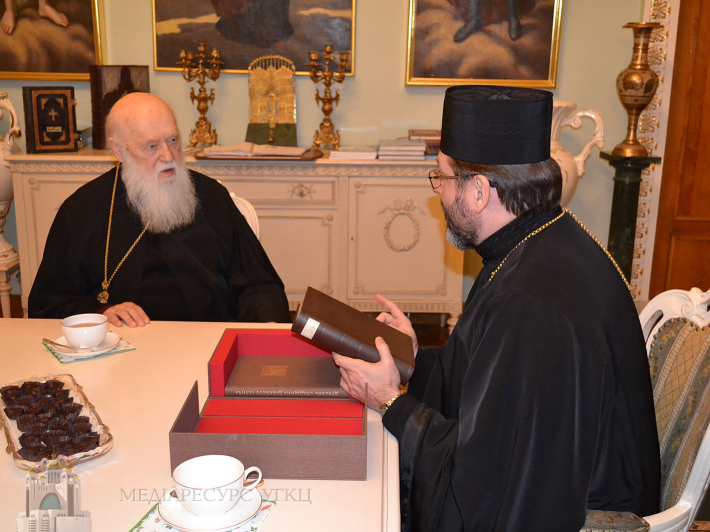 The Galician Gospel is a unique monument of the Ukrainian pre-Mongol era, which testifies to the common roots of all the heirs of the single Kyivan Church. Therefore, His Beatitude Sviatoslav is convinced that it should belong to every primate of the once unified Kyivan Church of Volodymyr Baptism.
On this occasion, the interlocutors discussed a number of issues. "First of all, we talked about our common heritage, tradition, history. It was emphasized that there is more between us that unites us than what separates us. We talked about the importance of finding common roots among all the parts of the once single Kyivan Church," told in a commentary to the UGCC Department His Beatitude Sviatoslav.
Another topic is the modern processes in the Ukrainian Orthodox community. The Head of the UGCC reiterated the position of the Greek Catholic Church. "Our Church supports all those processes that lead to the unification of Ukrainian Orthodoxy. However, we do not take part in them, because we consider them the internal affair of the Orthodox brothers. At the same time, we strive to continue to maintain friendly relations with all our Orthodox brethren in order to go the way for the restoration of our once unified, as the Galician Gospel testifies, the Kyivan Church," said His Beatitude Sviatoslav.
According to him, they also discussed the participation of the state in these unifying processes. "I stressed that it is important for us that the state treats equally all churches in Ukraine and that the rights of all, even the smallest churches and religious organizations, are properly honored," the Head of the UGCC said.
The meeting ended on a positive, constructive note of openness to dialogue and cooperation in the future.
Department of Information of the UGCC
MEDIA