His Beatitude Sviatoslav met with the Prosecutor General Yurii Lutsenko
Thursday, 10 January 2019, 22:17
Head and Father of UGCC His Beatitude Sviatoslav met with Prosecutor General of Ukraine Yurii Lutsenko in the Administrative Building near the Patriarchal Cathedral of UGCC in Kyiv at Mr. Lutsenko's request.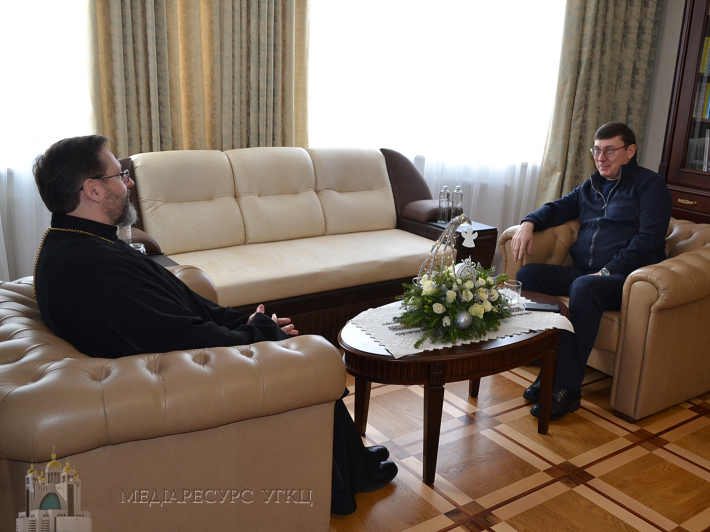 Yurii Lutsenko congratulated Head of UGCC and all Greek Catholics on Christmas and paid his respect to the Church.
During the meeting head of UGCC touched a very important question which is one of the key factors of social doctrine of Church – the rule of law in Ukraine. "Without the rule of law, without tackling legal nihilism, which is common among Ukrainians, and disrespect for law - it is very difficult to build fair free independent state", remarked His Beatitude Sviatoslav.
Sides also acknowledged that nowadays there is no a single interpretation of justice in society. Because justice is viewed as something which allows to settle only personal matters or defend a private position. "And culture which has no objective truth it is sometimes hard to talk about real objective justice", Head of Church considers.
Mr. Lutsenko mentioned that this phenomenon kind of exists when a judicial process itself as well as a procedure obscures understanding of real justice. According to him, for some officials is sometimes more important to adhere to a procedure and its all procedural requirements rather than perform what is really objective, comprehensible to everybody as something what is just.
Both sides came to a common ground that people expect some changes, await clear examples of fight against corruption. And people want to see examples of adherence to the rule of law, particularly by representatives of those structures which are called to dispense justice in Ukraine.
"As a consequence, reform of justice needs to be introduced so we can conduct a fair trial, hence a true justice can be adopted in Ukraine. This is the aim we have to meet together", summed up His Beatitude Sviatoslav.
The UGCC Department for Information
MEDIA