His Beatitude Sviatoslav spoke in support of marriage as a unity of man and woman in a new version of the Constitution
Friday, 17 July 2015, 15:31
Unfortunately, almost all proposed amendments to the Ukraine Constitution, introduced by All-Ukrainian Council of Churches and religious organizations in their letter to the Chairman of Verkhovna Rada of Ukraine from 12/06/2015, presented at the working sessions of a Working group, - were declined.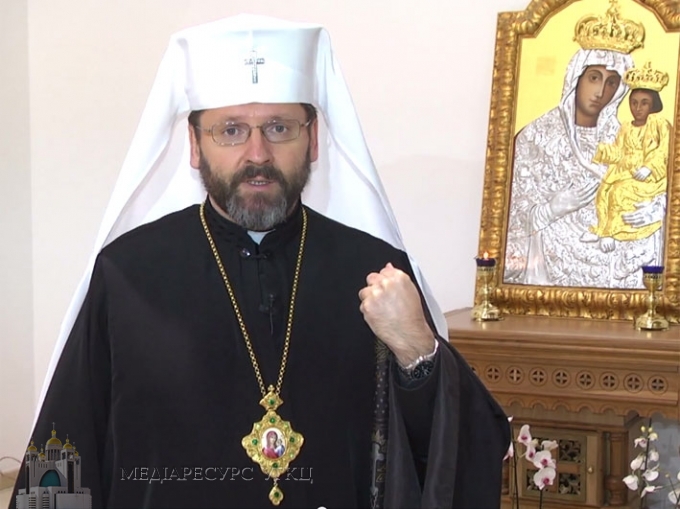 It is discussed in the letter of the Father and Head of Ukrainian Greek-Catholic Church His Beatitude Sviatoslav to the Chairman of Verkhovna Rada, Volodymyr Hroisman.
The Head of the Church pointed out, instead of concerted among a religious community, united in UCC and RO, represented more than 95 percents of believers in Ukraine, controversial amendments were submitted to a new version of Ukraine Constitution, suggested by a discrete member of a Council.
"To begin with, these statements contain serious threats to the institution of a family in Ukraine, - traditional for Ukrainian society marriage relations as a unity of man and woman, and create a basement for legalization unacceptable for a moral health and natural development of society of same-sex relations (paragraphs 27 and 35 of a project). These proposals threaten with pushing Ukrainian state to the abyss of a sin of immorality, ruining family as a main institution of a society, and popularizing unnatural for a human personality same-sex relationship", - written in the letter to the Chairman of VR.
According to the words of the Head of the UGCC, ground such doubtful amendments by appealing to the European experience is inappropriate, because there are different opinions in EU countries about a question of anti-discrimination law, marriage and family, legal opportunities for representatives of sexual minorities. Poland, Croatia, Hungary, Italy, being members of EU, in particular, demonstrate their devotedness to the traditional family and moral values, having a prohibition of same-sex relationship on a legislative level, and in some countries in the text of a Constitution.
It is also related to other paragraphs, editing of what has been discussed in abovementioned letter. In particular, draft of a paragraph about a freedom of thought, conscience and religion, where has been retained a norm about a separation "school from a Church", ignoring almost all amendments introduced by UCC and RO according to the constitutional regulation of sphere of social relation in a triangle: state – Church and religious organizations – civil society.
Summing up preceding, the Head of the UGCC signified once again an importance to take into account a basement of a selfhood and principles of human relationship, traditional for Ukrainian citizens, reflected in amendments of UCC and RO to the Ukraine Constitution.
The UGCC Department of Information
MEDIA