His Beatitude Sviatoslav: The visit of the Pope to Lithuania is a symbol and message
Tuesday, 25 September 2018, 21:07
In an interview for KAI, the Polish Catholic News Agency, the second largest agency in Europe and the first in Central and Eastern Europe, His Beatitude Sviatoslav, the Head of the UGCC, who, along with a group of faithful of the UGCC, participates in the apostolic trip of Pope Francis to the Baltic States, argues that this visit is of great importance for the entire region of the former Soviet Union.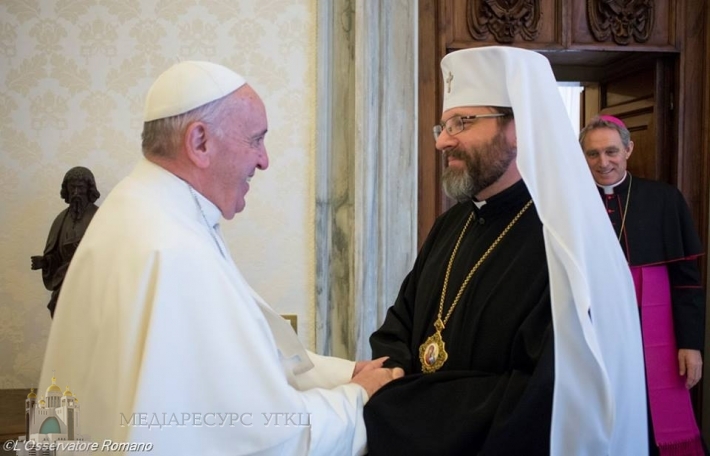 "The visit of the Pope to the land, so abundantly irrigated by the blood of the martyrs," said the Head of the UGCC," is very important not only for Christians in Europe, but also throughout the world."
"I came as a delegate of the Synod of Bishops of the Ukrainian Greek Catholic Church," he added, "since Vilnius is the old capital of my predecessors, Kyivan Bishops who lived here after they were expelled from Kyiv. St. Josaphat joined the Vilnius monastery of the Basilian Fathers. It was here that he preached about the unity of the Church."
In an interview for KAI, the Supreme Archbishop of Kyiv-Halych stressed that the Holy Father "came to Lithuania not only as the Head of the Church, but also as a symbol of the unity of Christians. We know how East and West today need unity, not only national, not only political, not only economic, but, above all, spiritual. I am convinced that the presence of the Pope here, in Lithuania, is a symbol and a message to the Catholics of both rites, the Roman and Byzantine, and other denominations, our Orthodox and Protestant brothers, because we together must testify about Christ in order to be true Christians in a society subject to secularization."
www.vaticannews.va
MEDIA