His Beatitude Sviatoslav: "There emerges a portrait in society of a clergyman as some sort of bureaucrat of religion"
Thursday, 01 August 2013, 20:49
Due to a somewhat clumsy interference of state officials in church matters and due to the attempts of this or that Church to become a state one, there emerges the danger of clericalism of society. Such a contention was voiced by the Head of the Ukrainian Greek-Catholic Church His Beatitude Sviatoslav (Shevchuk) in an interview with the press agency UNIAN, in an answer to the question why by now there does not exist one particular Church and how relevant for today is the work of Metropolitan Andrey Sheptytsky "How to build a national home" in which he expressed thoughts about the unification of all Ukrainian Churches into one particular Church.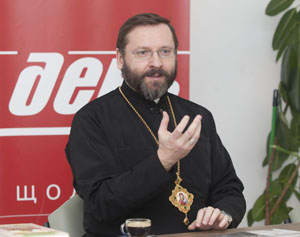 "I think that talking about unification at that time may have seemed absurd to some, because many could say that to achieve this, there first needs to be peace and tranquility in society. But the Metropolitan says something totally opposite, that it is precisely the basis which has to be the origin, the foundation for the building of a national home."
He believes that the Metropolitan saw that when state structures are destroyed, then the mechanisms that manipulate the Church are also destroyed, and then Churches gain freedom in order to unite. "Unity needs freedom – a freedom that, on the one hand, comes from the Holy Spirit and on the other hand, a freedom from any state apparatus that manipulates and uses the Church for its own state interests," stated His Beatitude Sviatoslav.
He notes that it was exactly when the Stalin ideological machine wanted to utilize the Russian Orthodox Church as a state ideological structure, the Metropolitan spoke about the indispensability of freedom for the Church, the imperative to free oneself from the aspiration for becoming someone's state Church.
Therefore, believes the Head of the Church, such a stance and the words of Metropolitan Andrey are very important.
His perspective is that in order to build one поміснy Church in Ukraine, it is necessary to avoid the temptation of excessive clericalism of society. "Let me use this example," he said. "Yesterday I visited the Arts Arsenal. I had the opportunity to directly see how the cultural society, artists react to the celebration of the 1025th anniversary of the Baptism of Rus-Ukraine. I felt that today the great danger of clericalism is hanging over Ukrainian society. This danger emerges on the one hand, from the somewhat clumsy interference of state authorities into church matters and from the other side, from the attempts of this or that Church to become a state one. Therefore, there emerges in our society the portrayal of a clergyman as some sort of bureaucrat of religion -- a state official who guides the religious feelings of the faithful."
UGCC Department of Information
PUBLICATIONS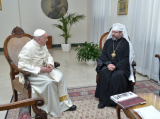 3 July at 10:00 AM, at Casa Santa Marta in the Vatican, Pope Francis met with His Beatitude Sviatoslav. The meeting was held at the request of the...
MEDIA