His Beatitude Sviatoslav took part in the annual meeting of the UGCC canonists
Saturday, 27 December 2014, 11:36
On 26 December, 2014 and the Head and the Father of the UGCC His Beatitude Sviatoslav attended the annual meeting of the UGCC canonists, held in the premises of Philosophy and Theology Faculty of the Ukrainian Catholic University in Lviv. The participator of the meeting was, in particular, Bishop Yevgen (Popovych), the chairman of the Canonical department of the Patriarchal Curia of the UGCC.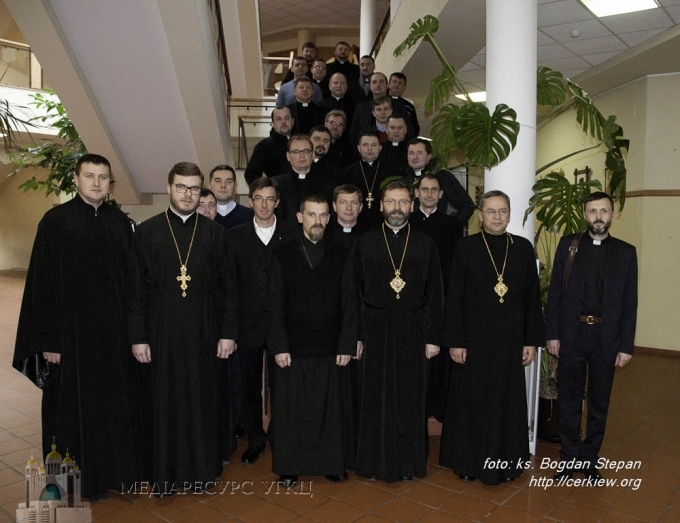 In his word, the Head of the UGCC congratulated the newly elected head of the canonists' council Fr.Andriy Tanasiychuk and thanked the previous council, which effectively and actively worked in this field. The Head of the Church marked the work of the church workers in creating the Particular Law of the UGCC. The particular law has been already approved by the Synod of Bishops, but it is still in language edition and translation into Italian. "The UGCC was waiting for this moment 25 years. I think it is symbolic that this event coincides with the anniversary of the legalization of the UGCC, as this right is its legal component"- He explained.
The Primate of the Church said that the UGCC is global because it works not only in Ukraine, but also in the Diaspora. "So we wanted this particular law to be the common denominator and a means of building the internal unity of the Church. That's why there were so long discussions around it. In processing this right our Church has shown itself united"- He added.
Despite the critical moments of Church History, Church is developing. As you know, this year in Ukraine there were two new exarchates: Kharkiv and the Crimea. According to the spokesman, these proclamations by the Apostolic See the decisions of the Synods of Bishops were made as if "one step ahead of the events that were happening in these areas". In addition, a new Metropolitan country of the UGCC was created in Brazil. And the formation of the metropolis of the UGCC in Ukraine - Lviv, Ternopil and Ivano-Frankivsk is continuing. However, with the building of structures must grow properly their canonical component.
"I want to wish you a competent work in church tribunals. We should make a lot of effort to make the judicial branch come up to the mark, and then we, as a local Church, can competently solve conflicts. I wish good canonists in the UGCC to be much, because there is a lot of work", - said His Beatitude Sviatoslav, greeting church law experts with Christmas holidays.
UGCC Department of Information
PUBLICATIONS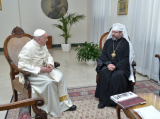 3 July at 10:00 AM, at Casa Santa Marta in the Vatican, Pope Francis met with His Beatitude Sviatoslav. The meeting was held at the request of the...
MEDIA