I ask everyone to turn daily work into prayer, Head of the UGCC in the next part of video catechism
Tuesday, 30 June 2020, 11:01
Our work must become a prayer. This was emphasized by the Father and the Head of the UGCC in the seventh part of the project His Beatitude Sviatoslav: #clearly_about_complicated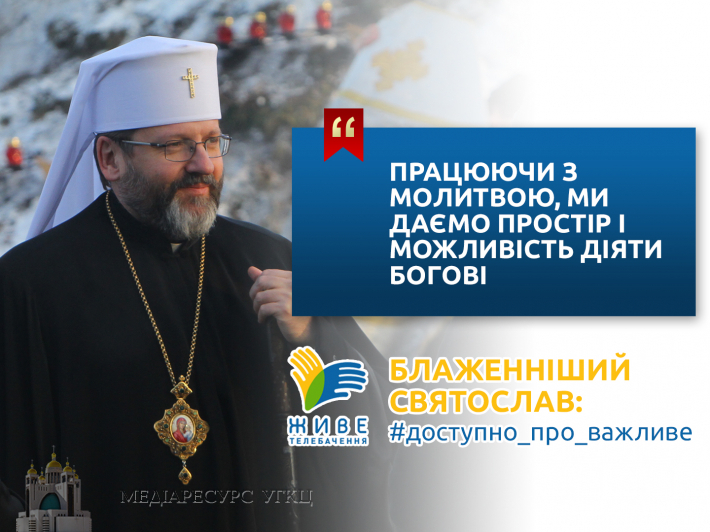 It is livestreamed every Saturday at 9 pm on Zhyve TV channels on Facebook and YouTube. In the previous programs, His Beatitude explained what to pray for; from now on, the Archbishop will reflect on the way of prayer - how to communicate with God?
His Beatitude Sviatoslav, following the Apostle Paul, urged Christians to pray incessantly. "Prayer is not just a single act or moment in our daily lives. The point is that prayer should be everything we think about and care for. Eastern Christian spirituality speaks of prayer as a state of the human heart and soul," said the Primate.
Just as a person prays with words and thoughts, he also should pray with his own actions. His Beatitude emphasized that work becomes prayer first of all when we turn to God: "Our work can be prayer only when we sacrifice it in the name of someone or something, because work is our effort."
When a Christian prays before work, he puts an eternal, supernatural meaning into it. In this case, a person, according to the Patriarch, will prove beneficial to other people. "The same should be done at the end of each work - to end it with a prayer," said His Beatitude.
In addition, our work can and should also be a moment of internal change for us.
"Therefore, I urge all of you to direct the prayerful state of your heart and soul into daily work and turn it into prayer. Then you will see that everything around you will become different, because by working with prayer and turning work into prayer, we give God space and opportunity to act, who is present in the Holy Spirit in our human activities," said in conclusion the Father and Head of the UGCC.
We remind you that on May 16, 2020, the UGCC launched a new video project His Beatitude Sviatoslav: #clearly_about_complicated
In it, the Head of the UGCC explains important Christian truths. The first programs were devoted to the content of prayer, but now the Head of the UGCC is reflecting on its method. You can watch new parts of the program every Saturday at 21:00 on the Zhyve TV channel on YouTube or the Zhyve TV page on Facebook.
The UGCC Department for Information
PUBLICATIONS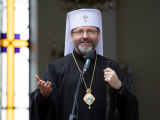 When we see people's transgressions, iniquities and even crimes we, first of all, have to undertake an examination of conscience, so not to do...
MEDIA