In a Riga UGCC parish for Ukrainian Greek-Catholics in Latvia, for the first time, pre-Christmas recollections were held
Monday, 15 December 2014, 11:44
In a Riga UGCC parish for Ukrainian Greek-Catholics in Latvia, for the first time, pre-Christmas recollections were held through the initiative of its pastor, Rev. Roman Sapuzhak. They were held for he first time in the history of this young Latvian parish, recollections on "The Holy Family as an example for contemporary Christians." With this goal, from the main Lviv monastery of the Redemptorist Priests, the Monastery of St. Clement, came Rev. Mykola Bychok, Ch.N.I.
The recollections which nurtured and renewed in the parishioners the experience of faith before the Great Feast of the Nativity of Christ, began with lessons by Rev. Mykola about the peculiarities of the meeting with Christ which lies in the reality of changing one's life. As an example he picked the sinner Zakkheya who converted after he met Christ.
Rev. Mykola Bychok also related about Saint Joseph as an example of a good father in bringing up children. A father, who does not stand aside, but directly participates in the life of the family, especially teaches the children to pray, which does not frequently happen in the contemporary world. Also a father who is good and safeguards his child and the mother from all the dangers of the world.
During the recollections, there was also a presentation about the Blessed Mother. Significant was the testimony of Rev. Mykola about the icon of the Blessed Mother of Perpetual Help which is in the UGCC Chapel in Old Riga already for 127 years and was brought there from Rome. It is the mission of the Redemptorist Fathers, to which Rev. Mykola belongs, to spread this icon in the world. "From this icon, the Mother of God looks upon us and is ready to hear our requests. She is ready to extend her arm to us, just as she does it to her Son, Jesus Christ."
The priest in his recollections appealed to the parishioners to prepare themselves for the Feast of the Nativity of Christ as to a joyous one because in it every Christian family greets the Saviour, simultaneously greeting St. Joseph and the Mother of God who form the Holy Family and are to be regarded as the highest authorities in one's own family life.
The parishioners who attended the four-day retreat had the opportunity every day to go to Confession and to receive Holy Communion.
Info Center PNB
PUBLICATIONS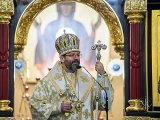 Head of the Ukrainian Greek Catholic Church brings multifaceted experience to project of evangelization.
MEDIA