In Austria prayers will be said for the innocent killed in Ukraine
Tuesday, 25 February 2014, 15:23
Cardinal Christoph Schonborn, Archbishop of Vienna and the Ordinary for Byzantine Rite faithful in Austria, is presently in Rome at the meeting of the Consistory of Cardinals. He issued a call to all priests and faithful of the Byzantine Rite in Austria to hold public prayers for the Ukrainian people. In Austria they will pray for the innocent killed in Ukraine.
On Saturday, March 1, 2014, Cardinal Schonborn will lead a Divine Liturgy in the Cathedral of Saint Stephen in Vienna.  Co-celebrants will be the priests of the Ordinate who serve as pastors in Austria (beginning at 6:00 PM).  The clergy and the faithful will pray together for the gift of peace and the cessation of bloodshed in Ukraine. After the Liturgy, a Panakhyda [RequiemService] in Ukrainian for all who perished on the Maidan of Independence in Kyiv and throughout Ukraine will take place.
Information provided by Rev. Yuriy Kolasa 
PUBLICATIONS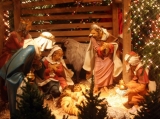 Christ is Born! "Today Christ is Born of the Virgin in Bethlehem. Today, the eternal One has a beginning, today the Word becomes...
MEDIA