In Czech Republic the Head of the UGCC prayed to a saint Wenceslaus for peace and blessings for Europe and Ukraine
Wednesday, 30 September 2015, 09:02
I have a big honor of praying with you today to a saint Wenceslaus, a founder of a Christian statehood on Czech lands. More than a thousand years Czech people have been praying to a saint Wenceslaus with the words: "Do not let us die!" Today it has become a prayer of Ukrainian people, as well.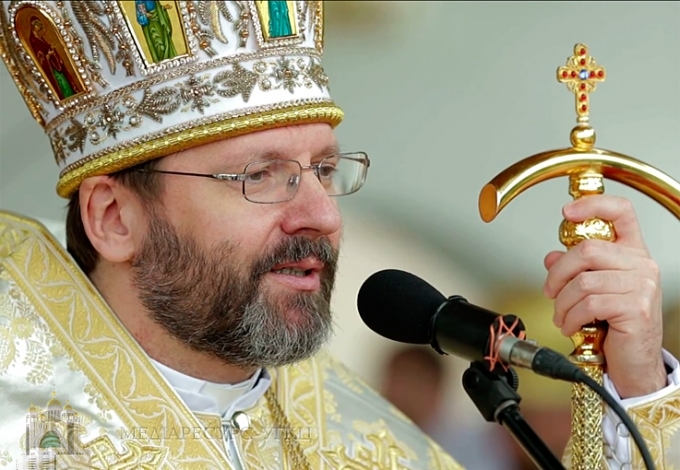 The Father and Head of the UGCC, His Beatitude Sviatoslav after a solemn celebration of a Divine Liturgy on occasion of a traditional public pilgrimage of a saint Wenceslaus in Stara Boleslav (Czech Republic), on 28th of September pointed it out. It is also Czech Statehood Day. For the sake of these celebrations the Head of the UGCC stayed in Czech Republic with a pastoral visit on 27-28th of September.
The Head of the UGCC said that in a passing year Ukrainian people were celebrating a millennium since a death of equal-to-apostles Volodymyr the Great, a founder of the Ukrainian Christian statehood. Thus "today this prayer sounds to us in a special way, when we think about the World War II 70th anniversary".
"No one could have ever imagined Europe to be engaged in war after 70 years again. Military actions are being carried out in Ukraine today. Our Motherland became a victim of an unjust aggression", - said he, adding that Ukraine suffers from the biggest humanities catastrophe in Europe after World War II. So, paying attention to words of the Head of the Church, symbolically, God's gifts to an altar, where a Divine Liturgy had been served, were brought by young Ukrainian family of refugees from Donbas.
"Thank all of you, dear brothers and sisters, to all Czech people for solidarity with Ukrainian people. Here, on Czech lands Ukrainian community has been living for more than a century. Prague is a big centre of Ukrainian culture. May Our Lord, through the prayers of a saint Wenceslaus, grant Europe and Ukraine peace and blessings", - finished His Beatitude Sviatoslav.
We add that a saint Wenceslaus (a saint and duke Wenceslaus), Czech duke of Přemyslid dynasty, a saint, honored among Catholics as well as among Orthodox believers. He is a patron saint of the Czech state. Wenceslaus was comforted with a great love of his people and after death was canonized by Church and became a patron of Czech Republic. A shrine of St. Wenceslaus in St. Vitus Cathedral, Prague became immediately a pilgrims' place. His relics, helmet, sword and armors are honored as a national sacred object. A day of death of St. Wenceslaus is celebrated in Czech Republic on a state level.
The UGCC Department of Information
PUBLICATIONS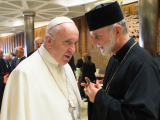 An unprecedented event took place in Rome on July 5-6. Desiring to demonstrate support for the Ukrainian Greek-Catholic Church at a time of...
MEDIA