In Kyiv representatives of UGCC participated in commemorative events, remembering those killed by famine on Ukrainian territory
Sunday, 25 November 2012, 18:28
By the National Monument to Holodomor Victims in Kyiv, representatives of Ukrainian confessions held a Panakhyda [Requiem Service] for those killed by famine on Ukrainian territory. The Requiem Service were conducted by Patriarch of Kyiv and all Rus'-Ukraine Filaret, Bishop Bohdan (Dziurakh), Secretary of UGCC Synod of Bishops, Head of the Administration of Patriarchal Curia and representatives of the Ukrainian Autocephalous Orthodox Church.
Participating in the service for the victims of the Holodomor-Genocide was also UGCC  Archbishop Emeritus, His Beatitude  Lubomyr (Husar).
After a moment of silence following the service, began the All-Ukrainian commemorative act,  "Light a Candle."
Memorial events in honor of Holodomor victims are held in oblast centers in Ukraine.  In particular, in Kyiv over 2,000  people with national flags marked with black memorial ribbon, walked in a Requiem March from the Arsenal metro station to the Holodomor Monument.
On this occasion, Bishop Bohdan shared his thoughts with the press service on why it is important that current and future generations remember those emaciated by famine in 1932-33.
He emphasized that remembering Holodomor is not only remembering the tragic events,   but now it is also the memory of the opposition of the whole population to a brutal and godless regime which occupied Ukraine.  The Bolshevik rulers chose this hideous method because they  understood that Ukrainians would not succumb to evil and would not compromise with the occupation regime.  "That is why it is so important to continue cultivating a living memory about this illegal period in our history," insists the Synod Secretary.
He asks people to disregard the administration's position of not attributing enough attention to the Holodomor-Genocide of Ukrainians, reminding  all that "the carriers of national memory are not those in power – it can be foreign, occupational, antagonistic towards those people whom they should be serving – the carriers of  national memory have always been – are -- and always will be the people.  Thus, as long as, at least in one Ukrainian window there is burning a candle for the victims of Holodomor, that long in Ukrainian hearts there will be a living hope for the eventual victory of truth over lies, light over darkness.  Fortunately, with every year the historic truth about the Holodomor is reaching more people, both here in our Motherland and in other countries of the world.
In one's relationship to the past, one clarifies one's attitude towards the present and to the future of the people and the nation.  "One who wishes Ukraine goodness and well-being, will try with all of one's might to assist in the acknowledgement of  historic truth and justice on all levels of national life – spiritual, cultural, community, socio-political.  It is well known that a nation that does not know or remember its past has no future,"  states the Administrator of the Patriarchal Curia.
The bishop also quoted from the Pastoral Epistle of Metropolitan Andrey Sheptytsky and UGCC Bishops asking for assistance to starving residents of East Ukraine.
"Ukraine is in its pre-death spasm. The population is dying from starvation.  Built on injustice, deceit, godlessness and depravation, the people-devouring system of state capitalism has led a recently wealthy land to total collapse," wrote Metropolitan Sheptytsky to UGCC faithful in July 1933, reminds Bishop Bohdan.
Just as in the sad year of 1933, Metropolitan Andrey did, so today Bishop Bohdan Dziurakh asks all to remember Holodmor victims in their daily prayers.
UGCC Department of Information
PUBLICATIONS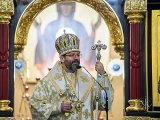 Head of the Ukrainian Greek Catholic Church brings multifaceted experience to project of evangelization.
MEDIA