In Rome children of Ukrainian migrants hold "Joyful vacations with God"
Tuesday, 28 July 2015, 17:01
Along one month at Ukrainian St. Sophia's Cathedral in Rome was set up summer Christian camp "Joyful vacations with God" for the children of Ukrainian migrants. During it children had an opportunity to learn the principles of Christian faith, Ukrainian language, history of Ukraine and also were acquainted with the personality of Metropolitan Andrey Shetytsky.
Nearly three hundred children of Ukrainian migrants, majority of who were born in Italy, were praying Divine Liturgy, everyday. They had an opportunity to talk in Ukrainian language, spending their time playing and entertaining. Among those who worked with children were sisters servants of Mary Immaculate, seminarians from Holy Spirit Seminary of Ternopil and a student of the UCU department of social pedagogy. The one who organized an event was "Saint Sophia" community in cooperation with "Migrantes" Foundation of Italian Bishop's Conference.
The main task of a camp was to create maximum Ukrainian society for the children of Ukrainian migrants, to cultivate love to their Church tradition and to introduce to them Ukrainian history. Speaking only Ukrainian language was a strict rule of participating in the camp. Besides, children revealed to themselves versatility of Metropolitan Andrey Sheptytsky, dedicating to him paintings and verses.
Press-service of "Saint Sophia" community
PUBLICATIONS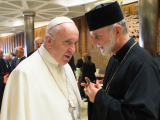 An unprecedented event took place in Rome on July 5-6. Desiring to demonstrate support for the Ukrainian Greek-Catholic Church at a time of...
MEDIA