In Russia the new Greek Catholic Church was consecrated
Tuesday, 03 June 2014, 09:18
On June 1, 2014, Bishop Joseph Werth, Ordinary for Russian Catholics of the Byzantine rite consecrated the newly built Greek-Catholic church dedicated to the Holy Trinity in Langepas, Khanty-Mansi Autonomous Dostrict (Russia).
The consecration took place on Sunday of the Holy Fathers of the First Council of Nicea, during a pastoral visit of Bishop Joseph to the parishes of the district. Priests of the neighboring parishes also took part in the consecration: Fr. Petro Pavlyshyn, prior of Nizhnevartovsk and Fr.Oleg Novosad, prior of Surgut. At the celebration there were guests: s.Maria Shtadler (diocese steward), Angelika Shmelin (representative of "Renovabis"), as well as parishioners from Surgut, Nizhnevartovsk, Megion.
"This event is important for the parishioners, - marked priest Vasyl' Mel'nykovych - because earlier people gathered in apartments or other premises to pray. Now we can praise God in the new church. Today we give thanks to God and the Bishop for the blessings and and the consecration of the temple. Also we make a big thank to all the sponsors and those who helped in the church erection. May God bless all for labor in the construction of the House of God. With the prayer on the lips we went a long way toward that goal".
Parish administrator, priest Vasyl' Mel'nykovych thanked Bishop Joseph for blessing and consecration of the church, and on behalf of all priests and North parishes congratulated the Bishop with the 30th anniversary of his priesthood.
By Priest Vasyl' Mel'nykovych,
parish administrator
PUBLICATIONS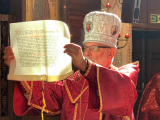 TO OUR BELOVED BROTHER IN CHRIST Most Reverend Bishop Kenneth Anthony Adam Nowakowski
MEDIA