In UCU former British Ambassador to Ukraine will speak about the moral challenges of diplomacy
Saturday, 06 October 2012, 18:40
On October 8 at 4:00 in the Conference Hall of the UCU Philosophy and Theology Faculty (35a Khutorivka St.) the former United KingdomAmbassador to Ukraine (2002-2006) Robert Brinkley will give a public lecture on "World Diplomacy and Moral Challenges."
The organizer of the lecture: Center of Personal Development of the Josyf Slipyj College and Philosophy Department UCU.

Robert Brinkley will visit the Ukrainian Catholic University from October 7 to 21. During his stay, Robert Brinkley and his wife will have the opportunity to get acquainted with the UCU community. They will have several meetings with the students of the University, includinglectures at the Lviv Business School (LvBS), for the master's program in journalism and at the Institute of Leadership and Management.
PUBLICATIONS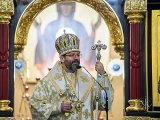 Head of the Ukrainian Greek Catholic Church brings multifaceted experience to project of evangelization.
MEDIA