Instruction for conducting canonical visitation of the UGCC Parish by the Bishop will take effect soon
Thursday, 17 December 2015, 15:56
Two months after the publication on the official website of the Ukrainian Greek Catholic Church the Instruction for conducting the canonical visitation of the UGCC Parish by the diocesan bishop, approved by the Synod of Bishops, held in Ivano-Frankivsk on August 31 - September 6, 2015 will come into effect soon.
The Decree of the Synod, as the document is declared, states that the canonical visitation is the fruit of long-time experience of Christ's Church and one of the main forms of pastoral care with which Bishop develops and deepens the relations with the clergy of the diocese and exarchate or other members of the diocesan community.
The canonical visitation of eparchy or exarchate, according to can. 205, § 1 of the Code of Canons of the Eastern Churches, is one of the important duties of the diocesan Bishop. The task of the canonical visitation is to oversee and strengthen the relationship between hierarchy, its representatives and faithful, encouraging them to improvement and mutual love.
The Instruction for conducting canonical visitation of the UGCC Parish by the diocesan Bishop was approved by the Synod of Bishops to provide Eparchs and Exarchs of UGCC with the effective tools in the organization of their own hierarchical church structures (dioceses and exarchates).
UGCC Department of Information
PUBLICATIONS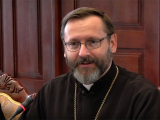 Speaking at the end of a closed-door meeting on religious freedom at the US Embassy to the Holy See, Major Archbishop Sviatoslav Shevchuk, head...
MEDIA