International conference devoted to religious journalism to take place in Lviv
Saturday, 06 October 2012, 18:35
An international conference "Between Journalism and Orthodoxy: Transparency & Responsibility", dedicated to the 45th anniversary of the founding of the magazine Patriarkhat, will take place in Lviv on October 20.
A special guest of the event will be world-famous journalist, CNN's senior Vatican analyst and the senior correspondent for the National Catholic Reporter John L. Allen Jr.

In his report "How to Write on Sensitive and Controversial Topics: Balance between Fidelity and Objectivity," John Allen will consider cases of conflict between the church and the media, analyze the characteristics of both sides, which often lead to distrust, and offer specific practical advice for avoiding misunderstandings.

Also during the conference a panel discussion will be held with John Allen and Ukrainian media experts Dmitry Krykun, Andriy Yurash, Fr. Mykola Myshovskyi, Mykola Malukha, journalists and delegates.

The organizers of the event are the Ukrainian Patriarchal Society in the U.S., the editorial office of the socio-religious periodical Patriarkhat (Lviv), and the Religious Information Service of Ukraine.

The conference will be held in the conference hall of the Ukrainian Catholic University (17 Sventsitskoho St.).

To participate in the conference one must register in advance.

Contact: 067 685 59 20, anatolij.babinskyj@gmail.com – editor-in-chief of Patriarkhat Anatolij Babinskyj or patriarchate45@gmail.com.

Patriarkhat – periodical founded by a group of lay Greek Catholics, members of the Ukrainian patriarchal movement that emerged in support of Patriarch Josyf Slipyj in 1963 in the U.S. The magazine became the leading church publication of the Ukrainian Greek Catholic laity and for 35 years has been a bridge of unity between the different parts of the world where there are faithful of the UGCC. Since 2002 the magazine has been based in Lviv.

John L. Allen Jr – CNN's senior Vatican analyst and the senior correspondent for the National Catholic Reporter. Author of six bestsellers, which cover issues related to the life of the Catholic Church and the Vatican: The Vatican's Enforcer of the Faith (Continuum, 2000); The Rise of Benedict XVI: The Inside Story of How the Pope was Elected and What it Means for the Catholic Church (Doubleday, 2005); Opus Dei: An Objective Look behind the Myth and Reality of the Most Controversial Force in the Catholic Church (Doubleday, 2005), а також The Future Church: How Ten Trends are Revolutionizing the Catholic Church (Doubleday, 2009). John Allen often writes about the church for the largest U.S. and international publications. His weekly column "All Things Catholic" is read by people all over the world because it is a source where one can find information about the internal life of the Catholic Church.
PUBLICATIONS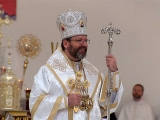 Can Easter be considered as a peculiar Christian holiday of victory and freedom of a human's will? Are we able through terrestrial examples...
MEDIA