Let us wear masks, when necessary, but let them not silence our traditional carols, His Beatitude Sviatoslav in Christmas Pastoral Letter
Monday, 04 January 2021, 19:06
In spite of our poverty and frailty, today we are rich in the joy and love of our newborn Savior. With Christ's Nativity, I sincerely greet you all: from Kyiv to London, from Buenos Aires to Melbourne, from Winnipeg to Zelenyj Klyn. His Beatitude Sviatoslav, Father and Head of the Ukrainian Greek Catholic Church, wrote this in his Christmas message.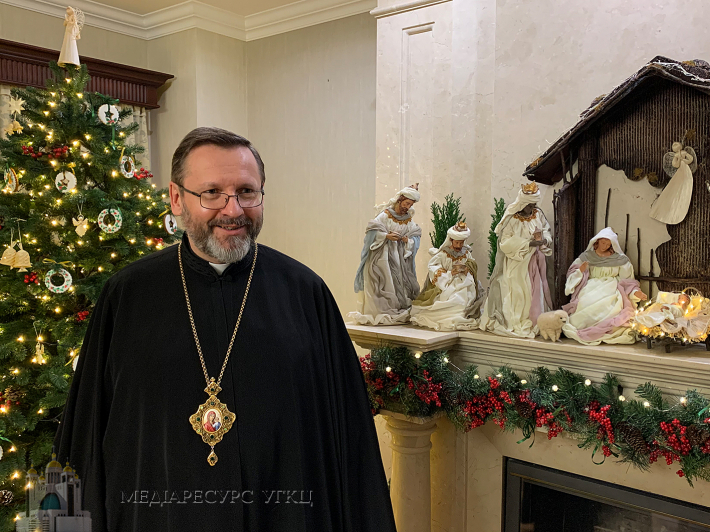 The Primate noted that it is hard to believe how our life has changed from the final carol of last year to the first "Boh Predvichnyj" (God Pre-eternal) of this year's Christmas Eve. Throughout 2020 we were, it would seem, transported into a different world—a world of fear and uncertainty before the unknown. Yet, in spite of the restrictions, challenges, and human losses we endured due to the coronavirus pandemic, together, as Church, in our families, parishes, communities, and countries, we did not cease to proclaim the good news of hope, love, and joy.
"We are celebrating Christmas in the midst of a worldwide situation of human anguish, brought on by the coronavirus pandemic. We have not yet fully grasped or understood all the consequences and faces of this global misfortune. We do not know what changes await us in the sphere of economic, social-community, and church life… But we have already understood that the virus is not interested, neither in our place of residence, nor in our wealth or social status. All of us are equally in danger of infection, and a new threat of poverty hangs over all corners of the globe," said His Beatitude Sviatoslav.
At the same time, he observes that all of us in the same way need the kind of help and strength that goes beyond human abilities and power. "For this reason, Christ's Nativity is for us a ray of hope and joy in the midst of today's dark fear and confusion, and each one of us must be open to God's grace, which pours out on us without ceasing, even in the worst of times," writes the Primate of the UGCC.
His Beatitude Sviatoslav asked to wear masks, when necessary, but let them not silence our traditional carols. "Let us celebrate as we are able. Let us acclaim the birth of the Savior, however possible, so that even in this pandemic we might bear witness to the most important truth of human history—that we are not alone or abandoned, because 'God is with us!'"
In the days of celebrating Christmas, the Primate of the Church called to ask the newborn Savior for the richness of His love, which alone can restore this distressed world of ours, and grant it hope, security, and joy. "Solidarity with and closeness to those in need, participation in their pain and anxiety, rather than escape from the suffering that hangs over us all today—this will grant us the possibility to be merry and truly celebrate Christmas this year," explained His Beatitude Sviatoslav.
"I sincerely greet you all: those who are celebrating today in their family circle and those who are keeping distance from their loved ones to protect them from danger, those who are able to attend church services for the Feast, and those who at home join in community prayer through social media. I especially greet all medical workers who, in spite of real danger to themselves and their families, tirelessly and with great sacrifice give of their time and talents for the health of others," the Head of the UGCC wrote.
"I embrace those who suffer physical and spiritual wounds. I send a word of comfort to those who this year lost family members and friends, and for whom it is particularly painful to approach the festive table this Christmas eve. I unite myself in prayer with those who fearlessly stand on the frontlines and defend our country and people, risking their lives not only before the threat of the insidious sniper's bullet, but also before the microscopic virus-enemy that has come upon us and inflicts on us added suffering and distress," assured His Beatitude Sviatoslav.
The UGCC Department for Information
PUBLICATIONS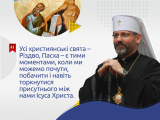 All the richness of the Christian life, our feasts, our Divine Liturgy are an opportunity to experience the events that the apostles went...
MEDIA