"Maidan became a mirror of Ukrainian society without any kind of aggression towards the Russian people or Russia…," UGCC Head
Friday, 30 May 2014, 16:10
In UGCC there exists a fraternal relationship with the Ukrainian Orthodox Church in union with the Moscow Patriarchate. All the joint activities of both Churches and the statements that were issued within the last few months, during the period of the Maidan, were done together. Even more, the current next in turn chairman of the All-Ukrainian Council of Churches and Religious Organizations is the Prelate of the Ukrainian Orthodox Church, Metropolitan Volodymyr (Sabodan).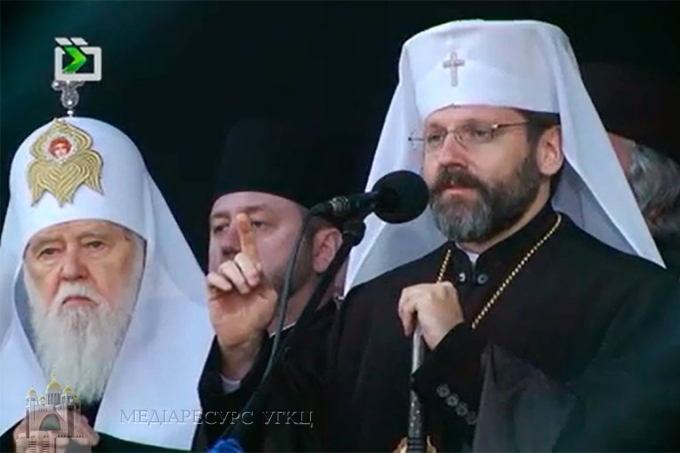 His Beatitude Sviatoslav, UGCC Head, stated this in an interview for the publication of The Catholic World Report.
He underlined that all the Churches and religious organizations were united during the very dangerous period in Ukraine.  Regarding the pastoral care for the faithful on the Maidan, according to the words of the Head of the Church, "everyone did it in their way."  However, concerning the moral judgment as to the misuse by Yanukovych of his powers, then "we were unanimous."
"Maidan was neither a religious nor an ethnic action of protest.  It was a social protest, participants of which were both Ukrainian-speaking and Russian-speaking-speaking citizens of Ukraine as well as faithful of UOC, UGCC, and other Christian Churches, Muslims and Jews," he stated.
In the perception of UGCC Prelate, the Maidan was a kind of mirror of Ukrainian society without any aggression towards the Russian people or Russia as a nation. 
Regardless of this, as UGCC Prelate related, until now there are no direct and open relations with UGCC and the Orthodox Church of the Moscow Patriarchate.  "Within the last three years, I desired to establish such a direct dialogue.  Nonetheless, we are still not able to realize this.  Yet we remain open to this and keep praying that one day we will be able to sit at one table, look into each others' eyes and affirm that we are members of one Body of Christ," voiced his expectations His Beatitude Sviatoslav, noting that the beginning of such a dialogue has to be a discussion of the disparities and problems which exist between the two sides..
UGCC Department of Information
PUBLICATIONS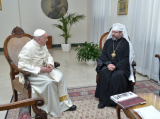 3 July at 10:00 AM, at Casa Santa Marta in the Vatican, Pope Francis met with His Beatitude Sviatoslav. The meeting was held at the request of the...
MEDIA