May God be glorified through the life and testimony of His children, the Head of the UGCC in the video catechism
Monday, 22 June 2020, 19:51
The prayer of praise is the fifth step that completes the whole prayer process. It is like the crown of our meaningful prayer. This was emphasized by the Father and the Head of the UGCC in the next part of the video project "His Beatitude Sviatoslav: #clearly_about_complicated"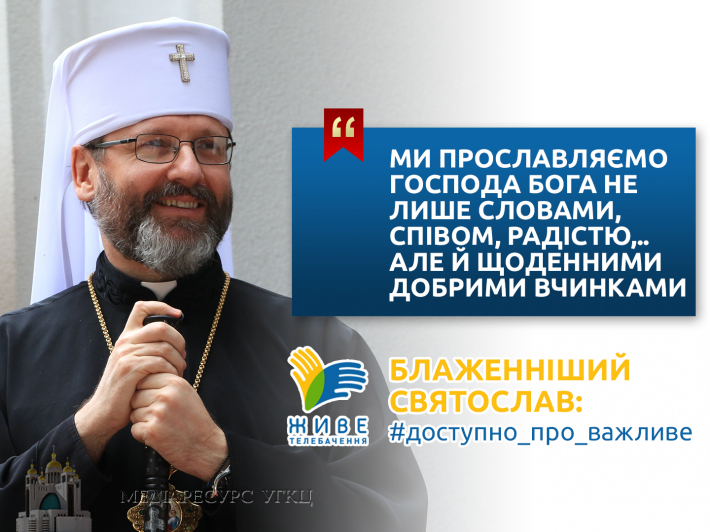 In the video, the Primate of the UGCC explained that there are numerous ways to glorify the Lord. One of the shortest and simplest of these is the hymn "Glory be to the Father and to the Son and to the Holy Spirit, as it was in the beginning is now, and ever shall be world without end. Amen." We use it very often during worship services. However, in addition to words, deeds play an important role in glorifying God.
"God is glorified in His saints when they testify to the whole world of the greatness and holiness of their God. The prayer of praise combines our communion with God with our personal daily life," His Beatitude emphasized.
The Head of the Church explained that with their good deeds Christians not only glorify God, but also testify of His goodness, greatness, and holiness to all others. "Interestingly, when outsiders see the good works of Christians, they glorify not us, humans, but our Father who is in heaven. This means that the Christian's personal life makes visible the way our God acts before other people."
Concluding the next series of the catechism on prayer, His Beatitude wished all the worshippers that the glorification of God would be the crown of their communion with the Creator. "For St. Irenaeus of Lyons says that the glory of God is a living man. May the Lord God be glorified through the life and testimony of His children," the Head of the Church concluded.
We remind you that the video project of "Zhyve Television" - "His Beatitude Sviatoslav: #clearly_about_complicated" - started on May 16, 2020. In short videos, the Head of the UGCC explains important Christian truths in an accessible way. The first series are devoted to prayer. You can watch the new programs of His Beatitude Sviatoslav's catechism on the Zhyve TV channel on YouTube or on the Zhyve TV Facebook page every Saturday at 9 p.m.
The UGCC Department for Information
MEDIA