Memorial desk to Saints Cyril and Methodius placed in Papal Basilica of Santa Maria Maggiore in Rome as a gift from grateful Ukrainian people
Tuesday, 16 November 2021, 10:47
November 14, an opening and consecration ceremony of the Memorial desk to Saints Cyril and Methodius, creators of the Slavic literacy was conducted at papal Basilica Santa Maria Maggiore in Rome. This symbol of gratitude of Ukrainians was consecrated by the Father and Head of the UGCC His Beatitude Sviatoslav and cardinal Stanislav Rylkov, the senior priest of the basilica.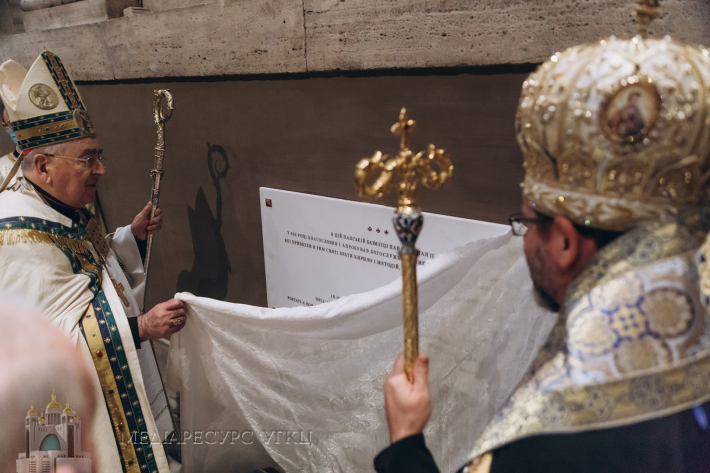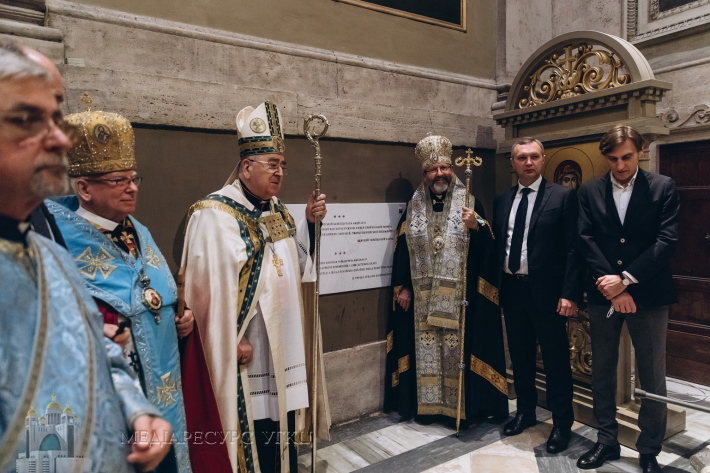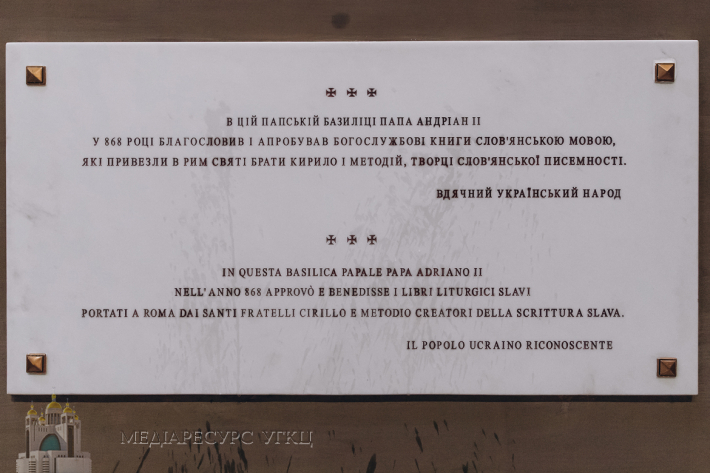 The event started with the Moleben to the Blessed Virgin Mary in the major chapel of the basilica with a miraculous icon "Salus Populi Romani" placed in there. Before the service had started, cardinal Rylko addressed the present and emphasized the "historical importance of placing the memorial desk dedicated to Saints Cyril and Methodius in the oldest basilica of the western world.
His Beatitude Sviatoslav mentioned two symbolic gestures made by two saints in 868. The first gesture concerns finding relics of St. Pope Clement, who gave his life away for Christ on the territory of modern Crimea. The second gesture lies in translation of liturgical books into old Church slavonic language, which the two brothers prepared for their mission. As His Beatitude Sviatoslav assumes, modern historians view it as a special bond between Churches of West and East.
"Following these gestures we would like to come up with our own and present a copy of an icon "Salvation of the Roman People" and leave it here as Saints Cyril and Methodius once did, bringing relics of St. Clement and liturgical books here. The second gesture is about consecrating a memorial desk with Ukrainian inscription, and added that a mission of the two saints has tremendously great spiritual gifts of our people's faith, which couldn't even be destroyed by the communists' terror", said the Head of the UGCC.
After the Moleben His Beatitude Sviatoslav together with cardinal Rylko consecrated a copy of the icon.
The Secretariat of the Head of the UGCC in Rome
PUBLICATIONS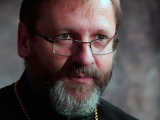 I must say that in Ukraine and other post-Soviet countries, we still feel the consequences of decades of totalitarian rule. In a totalitarian...
MEDIA