Nativity of the Blessed Virgin Mary - Church Feast of the parish in Hotyntsi
Thursday, 26 September 2013, 16:38
Church feast of Nativity of the Blessed Virgin Mary in the village Hotynets gathered not only the villagers , but also many visitors from neighboring parishes: Pozdyach , Hai, Przemysl, Yaroslav, Kalnykova, Ninovychy and Kobylnytsi . On the eve of the Nativity of the Blessed Virgin Mary in the local church Vespers was serviced. Traditionally, the faithful took part in the procession around the church with the icon of the Nativity of the Blessed Virgin Mary , which is dated by the XVII century.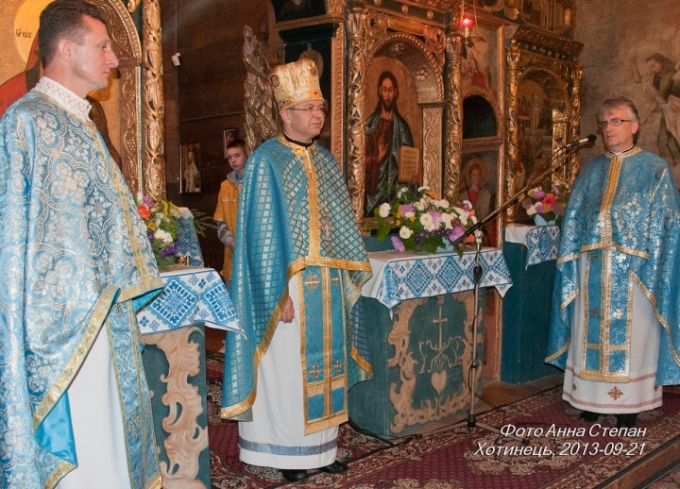 The main liturgical divine services of the feast day were headed by Father Eugene Popovich mytrat - protosyncellus Przemysl - Warsaw Archdiocese . Before the Divine service Pastor , Fr. Bogdan Stephen congratulated Father mytrat-protosyncellus Eugene Popovich and fathers who took part in the celebrations in Hotyntsi , namely Fr. Fr Bogdan Krubu - Przemysl Dean , Fr. T. Shpeha - Dean Mostyska ( Ukraine ) and Father Wieslaw Shkrabuta - Latin local pastor .
Father of Gmina Radymno - Stanislav Slyenzak said words of congratulations and presented a harvest fest bread and asked for prayer for all farmers. Bsides Father of Gmina Radymno,there were Director of School - Ewa foot and a representative of the Parish Council in the delegation that welcomed the clergy.
After the Divine Liturgy there was a procession with the icon of the Nativity of the Blessed Virgin. All believers came under missionary cross, where there was a small blessing of water . Near the cross Father Eugene Popovich mytrat consecrated the wheat for sowing during the coming year.
The master of the pilgrimage feast was Rev. Fr Bogdan Stephen - pastor .
PUBLICATIONS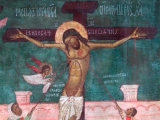 "Open to me the doors of repentance, O Giver of Life. As we worship in Your temple this morning, teach us how to purify the temple of our...
MEDIA