"Now our challenge is to overcome hatred of our own", – His Beatitude at the meeting with the Ukrainian community in Rome
Wednesday, 26 February 2014, 15:27
February 23 , His Beatitude Sviatoslav (Shevchuk) , who came to the Vatican to attend the meetings of the Synod of Bishops, met with Ukrainian immigrants from various cities in Italy.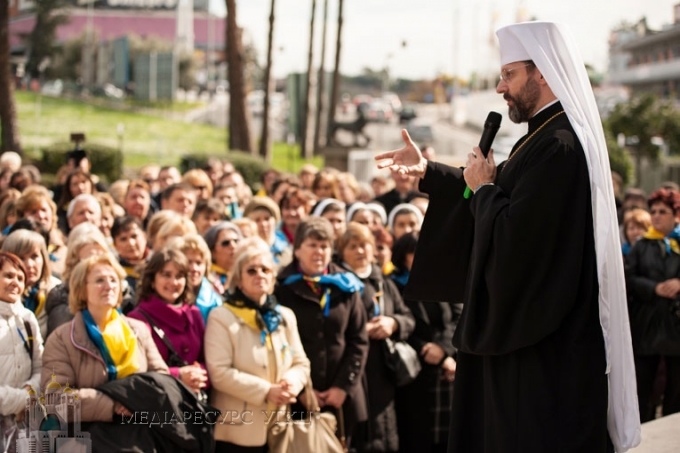 Morning at St.Sophia Cathedral in Rome, he served a Pontifical Divine Liturgy and memorial service for the souls of the dead at the Independence Square, after which His Beatitude had a meeting with the faithful, describing the situation in Ukraine .
"From the very beginning of the conflict in Ukraine, we tried to do everything to prevent bloodshed, but with each passing day the situation was getting tenser," - said the Head of the UGCC.
All churches and monasteries of Kyiv opened their doors for visitors to stay there. Approximately thousands of people spent the night in the Patriarchal Cathedral of the Resurrection of Christ, and when the first wounded,who were treated as criminals and were taken from the hospitals to the police stations, churches of Kyiv mobilized further to create an underground network of assistance ,"- said the Head of the UGCC. He also talked about the peculiarities of this year's Christmas in Kyiv:
On the other hand, representatives of churches and religious organizations, according to him, were the intermediaries between the government and protesters: " When the government was ready to impose a state of emergency in the country, we convinced the opposition to go to the President to negotiate. Then the representatives of the religious environment went to Independence Square to explain people the reason why the opposition resumed the negotiations." Thus , according to His Beatitude Sviatoslav, managed to avoid the "carnage".
Summing up his talk, His Beatitude Sviatoslav said that the beginning of the work of Verkhovna Rada on Thursday is a true miracle :
His Beatitude Sviatoslav urged all "to overcome hatred and start thinking about tomorrow":
We should add that besides the local Roman community Ukrainian immigrants from the cities of Padova, Perugia and Ferrara came to meet with His Beatitude Sviatoslav. Events in Ukraine also caused a resonance in Italian society .
Considering the great interest of the Italian media to these events, on Tuesday, February 25, press conference of the Head of the UGCC takes place at the central office of the "Radio Vatican".
Press service of the Society "Saint Sophia"
PUBLICATIONS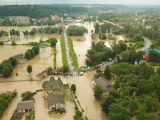 Your Graces and Excellencies, Very Reverend and Reverend Fathers, Venerable Brothers and Sisters in monastic and religious...
MEDIA