Open talk "Maidan's Church. What has changed?" in Lviv's city hall
Sunday, 25 February 2018, 22:55
On February 22, 2018 there was an open talk "Maidan's Church. What has changed?" as a part of media project "Spiritual greatness of Lviv". Representatives of clergy of different denominations, theologians, scientists, historians, students, journalists took part in the discussion. Major of Lviv Andrii Sadovyi greeted all participants of the talk.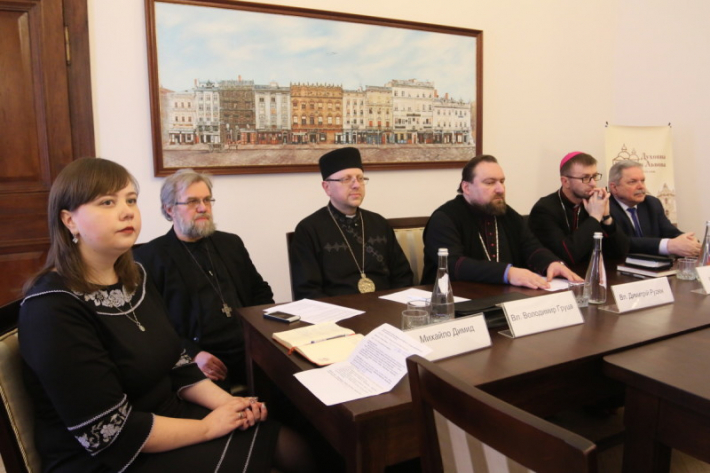 During the discussion experience and spiritual dimension of Maidan were analyzed, lessons of conscience and dignity were again examined. Dr. Myhailo Dymyd, professor at Department of Pastoral Theology at Ukrainian Catholic University (UCU), told about experiencing Maidan in Kyiv. About prayer during Maidan and means of sharing spiritual experience with others was talking Eduard Kava, Auxiliary bishop of Archdiocese of Lviv of Roman Catholic Church. Bishop Dymytrii (Rudiuk), Metropolitan of Lviv and Sokal of Ukrainian Orthodox Church of the Kyiv Patriarchate, shared experience of local spiritual maidans of different cities. And Myroslav Marynovych, vice rector of UCU, presented Maidan as a jumping-off point for Church's development.
West office of "Zhyve TV" based on materials from www.velychlviv.com
PUBLICATIONS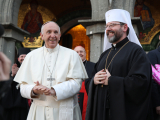 ROME - As the Catholic Church's Synod of Bishops in Rome was meeting on Oct. 11, it was another synod across the Aegean Sea in Turkey that sent...
MEDIA