"Our task—to be a church which testifies", Bishop Dionisii (Liakhovych) on the occasion of the church of the church feast of a Ukrainian parish in Rome
Thursday, 24 October 2013, 13:55
In his sermon Bishop Dionisii presented Saints Sergius and Bacchus as examples of current Christians. "Although the martyrs Saints Sergius and Bacchus lived in the distant 4th century, and we live in the 21st century, however, there are witnesses of Christ in all centuries across all the lands of our earth. Among them are the new martyrs who suffered in Siberia and the 21st century is also a time during which we who now live in Italy are called upon to testify about the living God in our everyday lives," noted the preacher. In concluding his sermon, Bishop Dionisii reminded the large group of Ukrainians present at the Liturgy that "we did not come empty-handed from Ukraine; we brought with us the gift of faith which we must share with those for whom we work."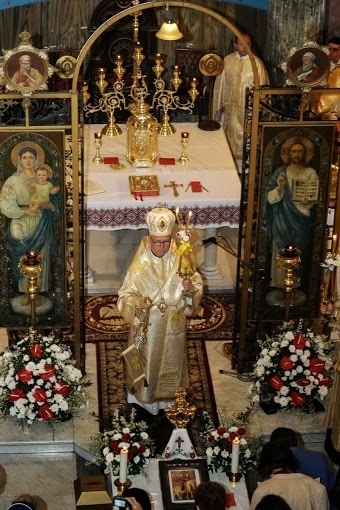 After the Liturgy, rev. Ivan Kulyk, the pastor, thanked the hierarchs and priests for the joint prayer, and all those who contributed towards organizing the parish feast. The celebrations ended with a gala concert by the church choir and artists from the parish, followed by refreshments for all the parishioners.
Historical note:
The first mention of a sacred building on the place which is now the Ukrainian parish, dates back to the 8th century during the Pontificate of Pope Leo III (795-816). The history of this church is closely tied with Cardinal Antonio Barberine (1596-1646), the brother of Pope Urban VIII, and a prominent philanthropist of numerous Roman churches. He financed the total renovation of the old Church of Saints Sergius and Bacchus. .
Cardinal Barberini also acquired the nearby building for the uses of Ukrainians and left an endowment to support the upkeep of the church and the neighboring buildings. His name is carved on the memorial plaque at the entryway to the church. In 1641 Pope Urban VII (1623-1644) by his decree gave the Church of Saints Sergius and Bacchus to the Kyievan Metropolitans. In 1667, Pope Clement IX declared this church as one of full absolution. On September 8, 1970, due to the interventions of Patriarch Josyf Slipyi, at the Church of Saints Sergius and Bacchus, housing the icon of the Zhyrovytsk Mother of God, a parish for Ukrainian Catholics of the Byzantine Rite in the Roman Eparchy, was formed. With the new wave of the 1990's emigration from Ukraine, the role of the church in the spiritual life of Ukrainians strengthened. Every day liturgies are celebrated here and the parish vibrates with life.
PUBLICATIONS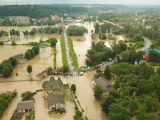 Your Graces and Excellencies, Very Reverend and Reverend Fathers, Venerable Brothers and Sisters in monastic and religious...
MEDIA