Patriarch Lubomyr (Husar) will meet with Odesa residents in the Ukrainian theater of Odesa
Tuesday, 01 November 2011, 18:56
Patriarch Lubomyr (Husar) will meet with Odesa residents on November 5 in the Ukrainian theater of Odesa. "Patriarch Lubomyr is known and appreciated not only by Greek Catholics but also representatives of other churches, religions, and even completely non-religious people," says Fr. Ruslan Ostafiy. "Lay people, intellectuals, initiated His Beatitude Lubomyr's visit to Odesa, and this gives the visit a special,informal tone."
Patriarch Lubomyr (Husar) will meet with Odesa residents on November 5 in the Ukrainian theater of Odesa. "Patriarch Lubomyr is known and appreciated not only by Greek Catholics but also representatives of other churches, religions, and even completely non-religious people," says Fr. Ruslan Ostafiy. "Lay people, intellectuals, initiated His Beatitude Lubomyr's visit to Odesa, and this gives the visit a special,informal tone." This will be the third visit of His Beatitude Lubomyr to Odesa. Previous visits were made in 2005 and 2010. The meeting was organized by Ukrainian Club of Odesa with the support of Odesa and Crimea Exarchate of the UGCC and the Odesa-Simferopol diocese of the Roman Catholic Church.
www.cerkva.od.ua/index.php
PUBLICATIONS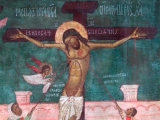 "Open to me the doors of repentance, O Giver of Life. As we worship in Your temple this morning, teach us how to purify the temple of our...
MEDIA