Pilgrimage on occasion of enthronement of Bishop Borys Gudziak as Apostolic Exarch begins in Paris
Friday, 30 November 2012, 18:25
On November 29 in Paris, a pilgrimage began to mark the enthronement of Bishop Borys Gudziak as Apostolic Exarch for Ukrainian Greek Catholics in France, Belgium, Netherlands, Luxembourg and Switzerland.
The first day of the pilgrimage began with a Hierarchal Liturgy in the Cathedral of St. Volodymyr – the main cathedral for Ukrainian Greek Catholics in France.

During the sermon, Bishop Gudziak said: "Are we willing to go out of our comfort zones and reach out to those who are in the margins? God reveals to us His glory so that we can understand who his followers are, and no obstacles can prevent us from being witnesses. And witnesses know that sometimes one has to lose everything to testify certain values. "

After the Liturgy at the Montparnasse Cemetery the bishop in concelebration with priests held a memorial service at the graves of exarchal clergy the Ukrainian Greek Catholic Church and at the grave of the head the Directorate of Ukraine Symon Petliura.

"Today we pray for the pastors who have served in Paris, in our exarchate. When they passed away, they had no idea that so many young people – students, seminarians, employees of UCU – would sing the requiem near their graves," said the bishop. "We came here to unite in prayer with our pastors and to remember their sacrifice: a person who gratefully makes sacrifices and serves others can expect such possibilities from himself."

During the memorial service at Petliura's grave, professor from Canada Frank Sysyn said that Petliura belonged to the cohort of people who wanted to create an independent state and understood that to achieve it they needed to fight. "He was the head of the Ukrainian emigration in the 1920s. These people opened Europe for Ukrainians. It was an interesting and educated generation that created Ukrainian institutions abroad and acted in the interests of its state," said Frank Sysyn.

In the evening of the same day, at Saint-Sulpice Church a concert featuring choirs from the Holy Spirit Lviv Theological Seminary and the Ukrainian Catholic University was held

On December 2 at the Notre Dame Cathedral at 3 p.m. the Rite of Enthronement for Apostolic Exarch of Bishop Borys Gudziak will take place. The Liturgy will be led by the head of the Ukrainian Greek Catholic Church His Beatitude Sviatoslav Shevchuk. Archbishop of Paris Cardinal Andre Vingt-Trois will participate in the ceremony.

UCU Press Service
PUBLICATIONS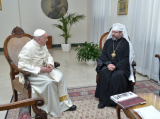 3 July at 10:00 AM, at Casa Santa Marta in the Vatican, Pope Francis met with His Beatitude Sviatoslav. The meeting was held at the request of the...
MEDIA