Pope Francis in the Ukrainian Cathedral of St Sophia: Every time before sleep and in the morning I meet with Ukrainians
Monday, 29 January 2018, 21:15
I want to tell you one secret. Before I go to bed at night or get up in the morning, I meet with Ukrainians… Your Beatitude Sviatoslav presented me in Argentina with an icon of Most Holy Mother of God. I took it with me to Rome. He returned to his country from Argentina, and I had to go to Rome... I pray each time before this icon in the morning and evening and finish my prayer in Ukrainian. This was shared by Holy Father Pope Francis during the meeting with Ukrainian migrants in the Greek Catholic Cathedral of St Sophia in Rome on January 28, 2018 AD, where he arrived at the invitation of the Father and Head of the Ukrainian Greek Catholic Church His Beatitude Sviatoslav.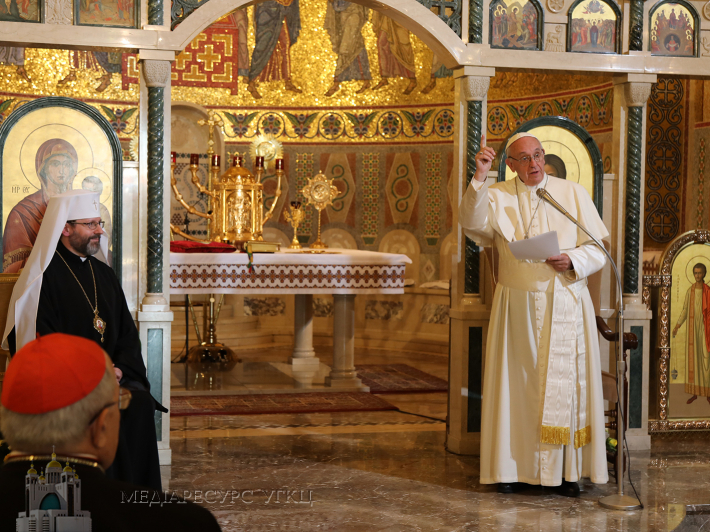 "I warmly greet you all and I am happy to be with you today. Thank you for your hospitality and for eternal loyalty — loyalty to God and the successor of St Peter," said pope Francis to the Ukrainians and clergy, who arrived at the meeting with him.
Apostle Peter's successor told that while entering this holy site – the Pro-cathedral, he observed with joy the faces of the Ukrainians. "The fact that we have gathered here in brotherly conversation, causes is to thank those numerous ones, who are not with us today, but who became the image of God's loving gaze turned upon us," said Holy Father and recalled three personalities.
"The first one – Cardinal Josyph Slipyj, whose 125-th anniversary you have celebrated. He built this lit with light basilica, so it became a bright prophetic symbol of freedom in the times, when you didn't have access to any shrines. But thanks to the sufferings, endured and sacrificed to the Lord, he partook in the building of another temple, even more magnificent and beautiful – temple from living stones, which you are», believes the spiritual leader of the Christians.
The second person, mentioned by the Pope, is the Bishop Chmil', who passed away 40 years ago and is buried here. "This man did a lot of good things to me. I have a vivid memory of the time when as a young boy I helped him during the Divine Liturgy. From him I learned about the beauty of your Liturgy, from his stories I learned about the living testimony of faith, forged in the horrible persecutions of the past century. I am very grateful to him and your numerous heroes of faith — those, who, like Jesus, fell like seeds on the way of sorrows, yielding an abundant harvest. For a true Christian victory — is a sign of the Cross, our banner of hope."
The third person, mentioned by the Roman Hierarch, – Cardinal Lubomyr Husar. "You, dear Beatitude, are bearing his personality in your heart, and many other people will always remember his kindness, tirelessness, and prayerful presence," said Holy Father.
These witnesses of the past, believes Pope Francis, were open to the God's future, that is why they give us hope in the present. "Perhaps many of you were privileged to know them personally. When you enter this temple, please remember fathers and mothers in faith. For they are the foundation on which we are standing, those who taught us the Gospel by their lives and go on accompanying and directing us on the way," asked the Pope.
The Hierarch noted, that His Beatitude Sviatoslav spoke about mothers and grandmothers, who pass down faith to their children. "Be courageous in doing so! Thank the Lord for those women!" called Pope Francis.
He observed that on the way of our Roman community there is the rectorium as a stable landmark. "Together with the Ukrainian Greek Catholic communities in the whole world you aptly formulated your pastoral program with one sentence: "Vibrant parish – place of meeting the living Christ." I would like to underline two words. The first one is – "meeting." The church – is a meeting, a place, where we can heal loneliness, overcome the temptation to separate and close in ourselves, where we can find energy to overcome self-absorption. So a community – is a place where we share our joys and hardships. Here we bring burdens of our hearts, dissatisfaction and nostalgia for our home. Here God is awaiting you in order to make your hope stronger. For when we meet the Lord, everything is permeated with His hope. I wish that you could find bread for daily living, and healing of your," wished the Holy Father.
The other word is – "living." "Jesus is living. He resurrected and He is alive. And this is how we meet Him at the Liturgy, in the Word… So each of His communities bears a fragrance of life. A parish — is not a museum of memoirs or a symbol of presence on some territory, a parish — is the heart of the mission of the Church, where we receive and share the new life, – life which overcomes sin, death, sorrow, and keeps each heart young," convinces the Pope.
On his opinion, if faith is born from the meeting and is speaking to the life, then the treasure, which we received from parents, will be well kept. In this way we can offer invaluable assets of our tradition to the young generations, who accept faith primarily when they feel the Church as close and alive.
"The Church is not a museum. God is not Someone Who looks at us only from above. God is Jesus Christ, Who is living among us," emphasized the Pope.
Pope Francis mentioned with gratitude many women, who are apostles of merciful love and faith. "You are a valuable gift because you are the best witnesses of faith for many Italian families, when by means of caring and non-intrusive presence look after people. I ask you to view your tiresome and not always grateful work as a mission: you are support for many elderly people, you are sisters, who help them not to feel lonely. Reveal God's solace and tenderness to those who are getting ready to meet with Him in eternity. This is a great ministry to our neighbor, pleasant to God, for which I am grateful to you," called the Holy Father. "Today you take care of them but in the future it will be them who will open the doors of the heavenly kingdom for you," he believes.
"I came here to tell you that I am with you, when I am performing the Sacrament of Eucharist. Then I ask the Prince of peace to silence weapons. I also ask Him that you don't have to make such big sacrifices in order to ensure a dignified life for your families. I pray that you always have courage to move forward, courage to start anew."
"Thank you on behalf of the whole Church and grant you my blessing. Please, pray for me," finally said the successor of Apostle Peter.
The UGCC Department for Information
PUBLICATIONS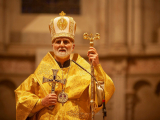 TUESDAY, JUNE 4 DURING HIERARCHIAL DIVINE LITURGY AT THE UKRAINIAN CATHOLIC CATHEDRAL IN PHILADELPHIA OVER 50 BISHOPS, WILL PARTICIPATE...
MEDIA