Pope Francis met with the Catholic bishops of Ukraine
Sunday, 22 February 2015, 19:53
On 20 February, 2015 Pope Francis received the Vatican bishops of Byzantine and Latin rites from Ukraine. The meeting took place during a visit to the Vatican "AD limina Apostolorum», which translated from Latin means "to the Apostolic thresholds", which lasts from 16 to 21 February.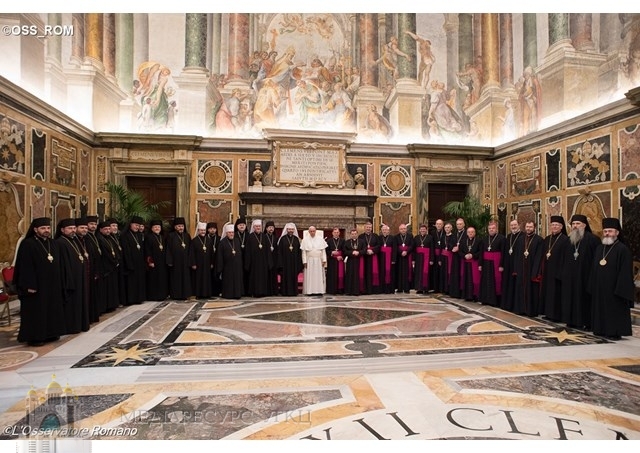 Except the meeting with Ecumenical Hierarch the Bishop during these days had the meetings in the Vatican departments, pilgrimage to the tomb of St.Peter the Apostle in the Vatican Basilica and the papal basilicas of Rome.
The bishops had the opportunity to meet personally with the Holy Father, then the Bishops of the Greek Catholic and Roman Catholic Churches had a separate conversation with the Pope, and the third stage was their common meeting with the Ecumenical Hierarch, during which, after the common prayer and blessing each of them received from Pope Francis the text of His speech in Italian. In conclusion Ukrainian bishops sang to the Holy Father "Many Years!"
The Bishops of the UGCC presented to the Holy Father the album about Marian spiritual center in Zarvanytsya and the wooden decorative plate. From the Roman Catholic Church in Ukraine the Pope was given an icon of Jesus the Merciful, which was performed by Lviv painters Lev and Andriy Demyanchuk.
MEDIA