Pope Francis will definitely visit Ukraine! a moving story about a dialogue between a young Ukrainian boy and the Pope
Wednesday, 21 February 2018, 21:44
On February 18, 2018, the Pope paid a visit to the Pro-cathedral of St. Sophia in Rome where he met with the Ukrainian community. But will he come to Ukraine one day? A Ukrainian boy, who currently lives in Rome and who has made friends with the Holy Father, knows the answer to this question. Six-year old Danylko is convinced that if he was able to invite the Pope to St. Sophia and the Bishop of Rome fulfilled his promise, then a visit to Ukraine is soon about to happen!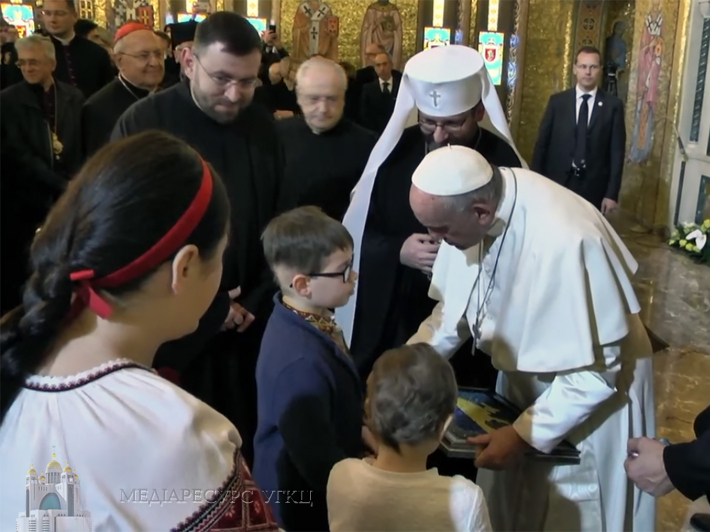 His Beatitude Sviatoslav, the Father and Head of the Ukrainian Greek Catholic Church, on Sunday, February 17, during the live broadcast of the Open Church program on Live TV, shared a moving story about a little Ukrainian and his communication with the Pope Francis.
"I will tell you a story of a little Danylko. This boy first visited an audience with the Holy Father several years ago. He was holding a children's painting depicting the Cathedral of St. Sophia in his hands. There is even a photo showing how the Holy Father is embracing him. Then the Bishop of Rome asked him what he had painted and the boy answered: "This is our church in Rome. Please come to visit us!" And the Holy Father gave him to know that he accepts the invitation. So the boy was convinced that the Pope had arrived at our Cathedral because of his invitation," said the Primate of the UGCC with a smile.
According to him, this boy has been living in Italy for several years, fighting a serious illness. However, he does not lose hope. "And when I was listening to them talking," said the His Beatitude Sviatoslav, "the boy said to the Pope the following words: 'Thank you that you have come. Please pray for Ukraine. You know how a mother suffers when her son has been killed?"
The Primate of the UGCC said that the Pope was deeply touched with the boy's words. He promised to the boy that he would definitely pray for the mothers of Ukraine. Without hesitation, the boy said to the Holy Father: "Please visit Ukraine, will you? I am inviting you."
Next day, when our priests asked the boy about this meeting, he told everyone that he is sure the Pope will come to Ukraine because he knows how to keep his promises.
"We, too, hope this will happen soon. Children are saying that such a visit will for sure take place. We are looking forward to it!" emphasized the Primate of the UGCC.
Department of Information of the UGCC
PUBLICATIONS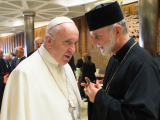 An unprecedented event took place in Rome on July 5-6. Desiring to demonstrate support for the Ukrainian Greek-Catholic Church at a time of...
MEDIA